This blog is going to kick off our series on Core Values. Recently much of our writing has been less about "fitness" and more about achieving long term success in fitness and in life. In the past blogs we addressed goals and quitting(you may want to read them first).  The next way to continue this discussion is to  discuss Core Values. We will start with an overview of our Core Values at Evolution Fitness, then our subsequent blogs will discuss how Core Values play into achieving goals in our everyday lives. Core Values are two words that drive companies and individuals whether they have specifically identified them or not. Unfortunately, they have turned into obligatory statements and generalities. There is nothing general about a core value. They are THE WHY you do what you do, which drives the HOW you do what you do, so you can do the WHAT that you do. Sometimes if you ask a small business what their values are, you will be met with either a stunned look or a general statement of we sell great ________.  The same can be said when talking to an individual about their personal values. Try it, ask someone you are close with what their core values are. Some may  really know them, but many will pause….. think for a few moments…… and come up with a list, with no understanding of what they truly mean. They may say something like, honesty, family, and friendship. That is a great start, but what does it really mean? How does that show up in your life? Knowing and living your values IS THE KEY to understanding yourself, or your business, and why we make the decisions we do a on daily basis. Have you ever made a big decision in a split second without thinking and it was the absolute best decision? It probably had everything to do with your core values whether you think so or not. Have you ever made a decision that caused stress and had you upset with yourself? The reason for the stress was much likely you made a decision that went against one of your core values.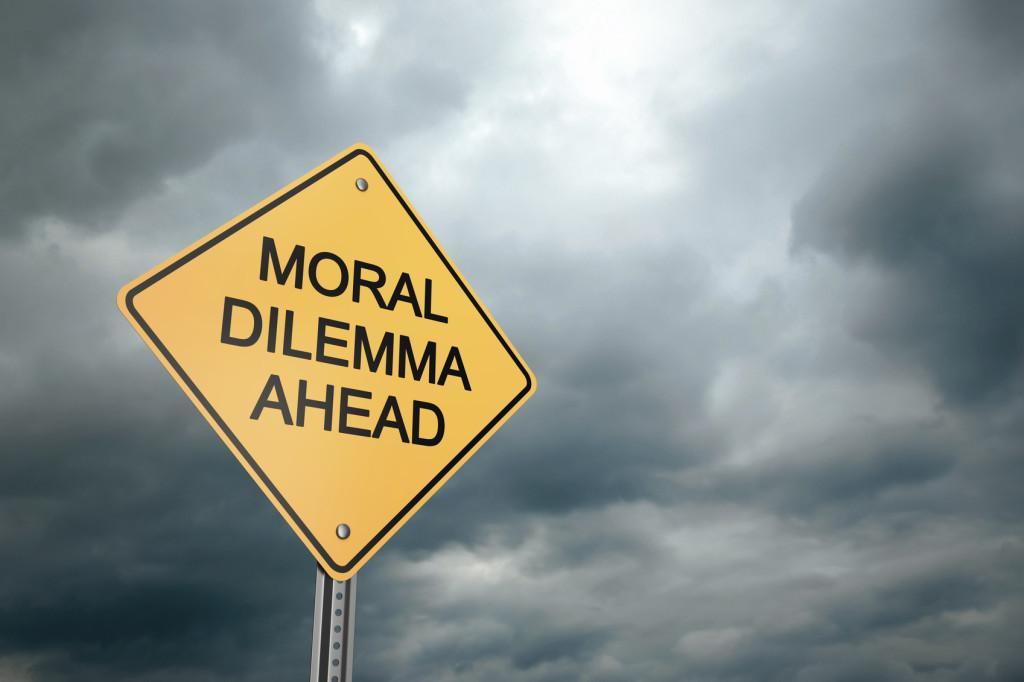 We see big corporations talk about Core Values and Mission Statements and they may even have them engraved on walls. Some live their values and it shows in everything they do, like Southwest Airlines. Customer Service is one of their core values. It can be witnessed by the friendliness of staff, hilarious on-board announcements, and no bag fees. Southwest creates a customer experience. I am sure there are some instances of less than stellar service, but more often than not they do the right thing. There are other companies like Walmart that have the Mission of "We help people save money so they can live better." They do great on the first part of, but helping people live better isn't their forte, at least not if you work for them.
When the core values of Evolution Fitness were put together they represented the WHY, Evolution began in the first place, and why we are in business today. One of the biggest things we have been known for is having an educated staff that offers high quality instruction. If you are going to train with us you will have someone making sure you are doing it right. Recently, we had a client sign up with us because her trainer moved and told her, "Make sure you continue to train, and I want you to go to Evolution because they do it right." I never met that trainer, but I was honored and I had a deep sense of pride in the knowing that is exactly WHY I started Evolution. It is so deeply rooted in what we do. Even though I personally haven't taught many of our classes in years, it made me realize the staff holds those values as a part of them.
A few weeks ago I was discussing with a friend how I was instructing our rowing class to clean up their form. I can get fired up about people doing it right and not just turning a training session of mindless exercise. He asked me, "Why are you like that, what makes that so important to you?" Without a pause, I said "That is my standard, that is what Evolution is about. If people want mindless exercise, boot campy circuit training with burpees 'till you drop, they can go waste their money somewhere else. We are the place people come to do it right and have a purpose in their training." I got charged up when I said it, and I was excited. I know that is a value we MUST embrace and own if we are to have integrity with our business. Without it, I would rather sell knick-knacks at the flea market. Core values ARE YOUR STANDARDS whether you are a person or a business.
EVOLUTION'S CORE VALUES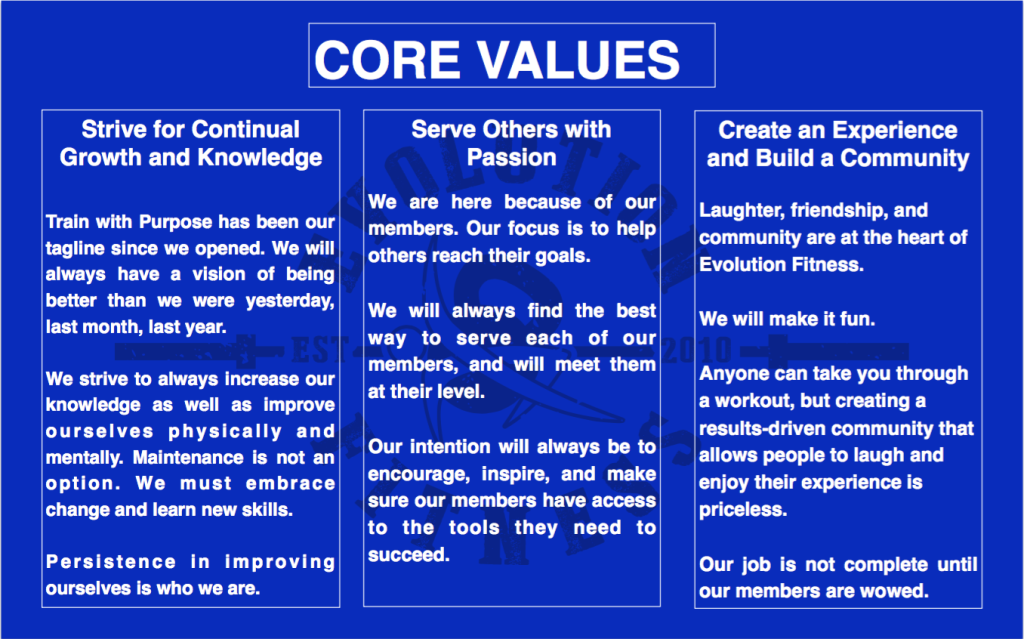 Every staff meeting at Evolution we go around the group and have the team discuss how our company values have played out in their lives or with their clients. It is inspiring to see when the team discusses their personal goals being achieved or educating themselves either in fitness, or learning new skills that have nothing to do with fitness. We share experiences of member success stories small and big. Our values drive us.
STRIVE FOR CONTINUAL GROWTH AND KNOWLEDGE
Innovating and education is the foundation of Evolution. In the years leading up to opening Evolution it seemed as if I was on a plane flying across the country or driving to events hundreds of miles a way to take a course and learn concepts to bring back to our members. When we opened our doors we started bringing national level coaches and authors in to teach our staff and the Tucson Community. This year alone our staff has spent $10,000 on their continuing education and the year isn't even over. It is pretty awesome to be around a group that is always finding ways to get better. They understand that fitness and strength is more than mindless exercise. They care and want to utilize the best practiced methods to help people move better, become stronger, and make lifelong changes not just lose weight for a challenge.
SERVE OTHERS WITH PASSION
I have lost count of the times I have seen members reach out to our team for support. I have seen tears pour out and struggles happen in our members' lives and the Evolution Team steps up in big ways. It gives me a huge feeling of gratitude. There have been numerous times where our team has stayed late, not being on the clock just to make sure that a member was getting the attention they needed or reached out to a member with a phone call because we haven't seen them in awhile and that they were thinking about them. I have seen beginners in our classes having some difficulty and watched our team jump into a class they weren't teaching to help a member get extra attention so they felt more comfortable. This is the Evolution difference. We aren't perfect all of the time and we can always improve our service, but our staff must have the spirit of serving others to be on board. One of the things we discuss daily is, how can we be better, what can we do to improve.
CREATE AN EXPERIENCE BUILD A COMMUNITY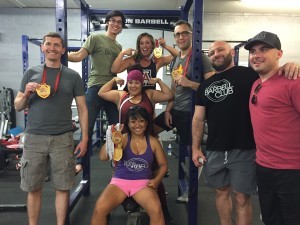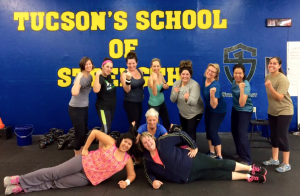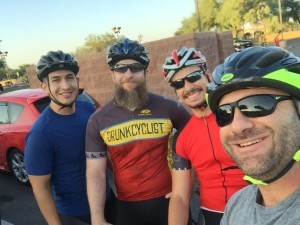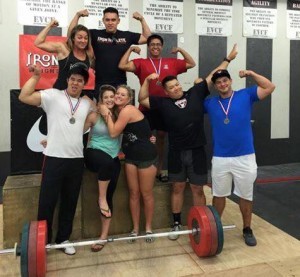 Having fun is a crucial part of the experience. We are in the people business. If we lose site of this aspect then we are no different than a big box gym. We constantly have numerous events for our members to train for and have an outlet to put their training to the test and get our community together. To see members show up and lift a weight they never imagined when they walked in the door, or row a 2000m time trial, or have them sign up for a competition is life changing! It creates a ripple of success for others around them in the community. We have never been about before and after pics, it is in the outcomes of helping people transform themselves with improved strength, confidence, and health that separate what we do. The problem we see with the fitness industry is that so many people are about weight loss and the scale, but they lose track of the process. Falling in love and having success with the process is something you can't take away and can't be tracked with the scale.
It is amazing to see the friendships that have been created at Evolution. When someone has great things happen, the community rejoices. When individuals are going through a rough time the community steps up to support without a hesitation. It is who we are.
CORE VALUES ARE THE DECISION MAKER
We strive to meet our Core Values consistently, and all decisions we make must be filtered through them. It could be easy to feel the pinch of a slow month to try and offer some gimmicky supplement to sell, or offer a trendy group exercise class to the schedule to increase sales, but that isn't why we are here. Many times we are understaffed at Evolution because we care not only about a potential trainer's technical ability, but the ability of the trainer to be of service to our members and work along side our team. At the end of the day our values don't change based on how much revenue we create or lose because they are not driven by profit. It just happens when we live by our values profit happens.
Now that you know a little more on what our Core Values are about and how they apply to our day to day stay tuned for our next blog on finding your Core Values and Achieving your Goals in more than just fitness. Knowing where Fitness and health fit in your value system will dictate all of your decisions.
If you would like to learn more about our programs and how we can help you achieve your goals contact us!