Welcome to Tucson Strength. We are Tucson's #1 Gym for weight training, powerlifting, personal training, group fitness, nutrition coaching, and more.
At Tucson Strength, we offer the largest selection of weight training equipment for powerlifting, strongman, Olympic lifting, and bodybuilding.
With over 12,000 square feet of dedicated workout space for squat racks, lifting platforms, dumbbells, machines, and more, you can get the workout you need without waiting for equipment.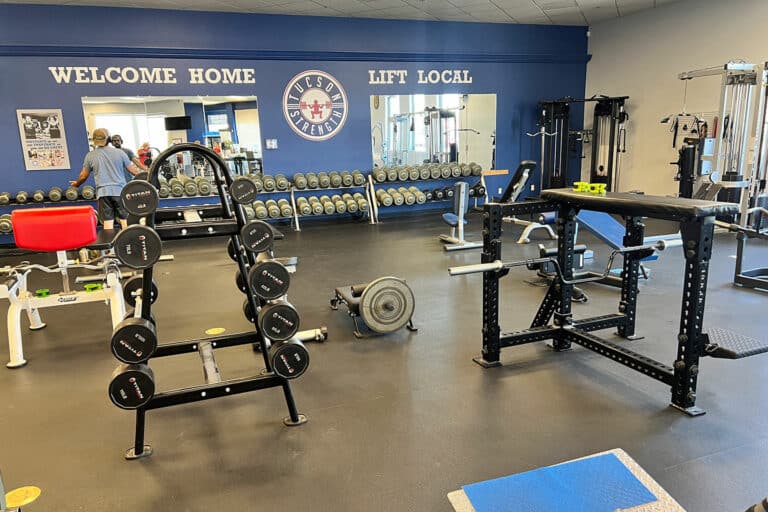 Ditch the Big Box Gym and Experience our world class facility featuring the best powerlifting, olympic lifting, and strength equipment the industry has to offer. We also offer one heck of a community as well.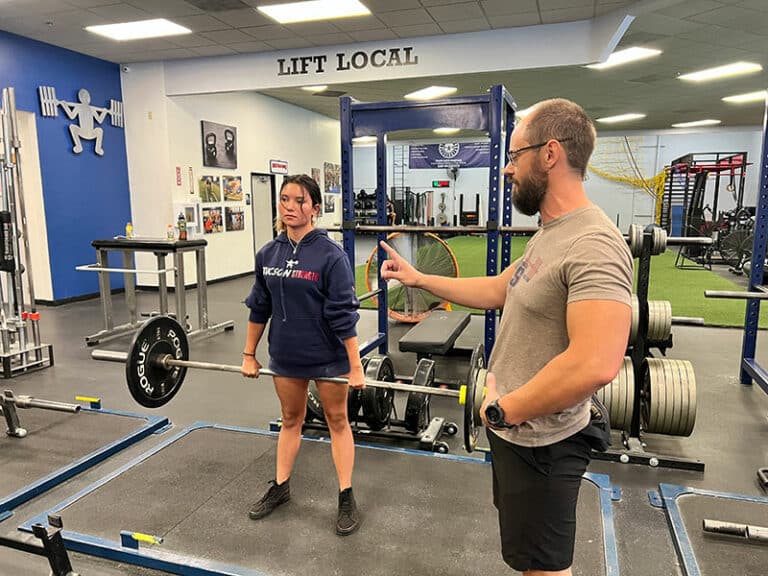 Our team of certified professionals care about their clients. We have staff that specializes in corrective exercise, powerlifting, overall fitness & strength, nutrition, hypertorophy, calisthenics, kettlebells and more.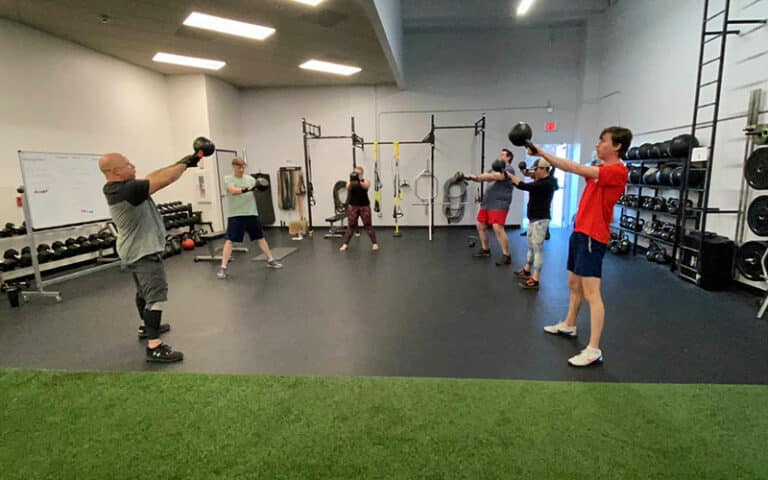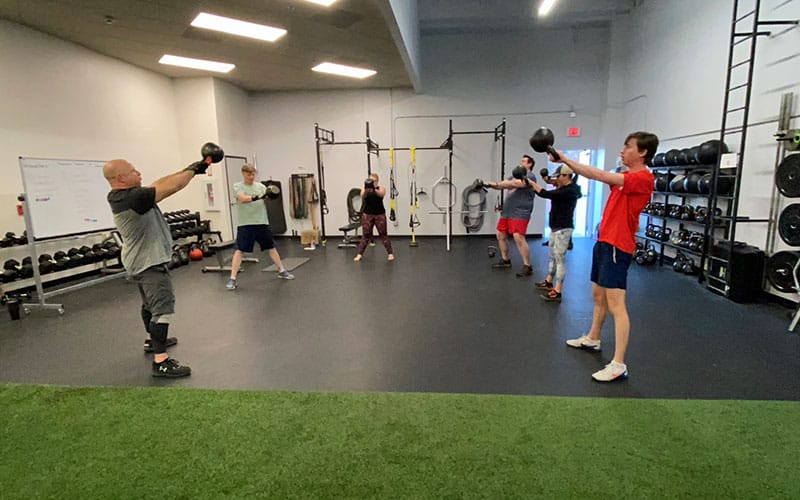 Our group fitness training program offers a variety of class options ranging from kettlebells, mobility, conditioning, powerlifting, and general strength training. Give our unique group exercise class offerings a try!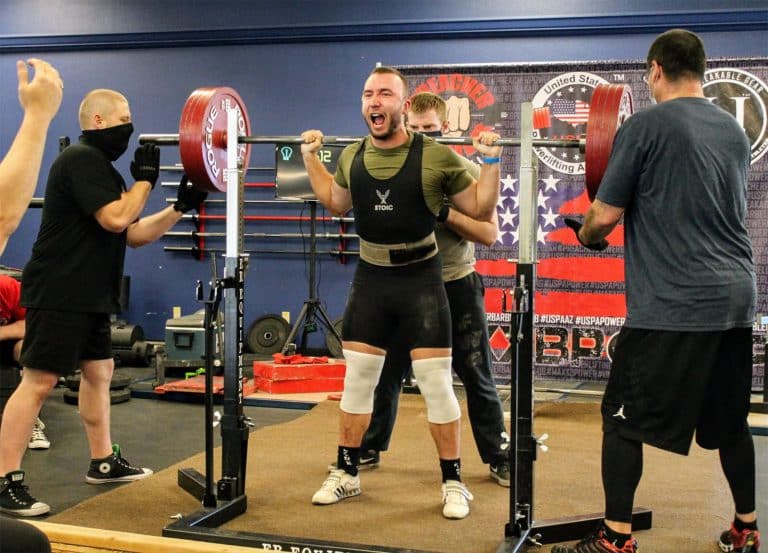 We hosted more educational seminars and powerlifting competitions than any other gym in southern AZ. See our upcoming USPA Powerlifting competitions, Fitness workshops, and special program kickoffs.
Month to MONTH
$60 Enrollment Fee
6 Month Open Gym
$60 Enrollment Fee
After 6Months 30 day notice to cancel
Optimal Results
Unlimited Group Training
Open Access Membership Included

$259 to start includes 2 Personal Training Sessions and 1st month of dues
Danny has been in the fitness and nutrition field for 20 years. He graduated from the University of Arizona with a degree in Nutritional Sciences then spent a few years studying, teaching, and researching metabolism and physiology. He then went on to become a personal trainer to put his knowledge to use. Danny specializes in coaching the sport of powerlifting, corrective exercise, and kettlebell training.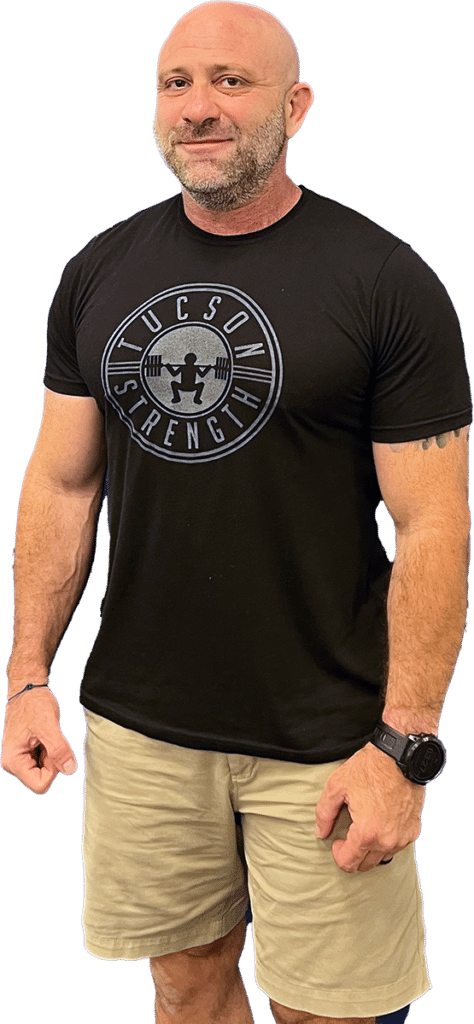 Danny has been in the fitness and nutrition field for 20 years. He graduated from the University of Arizona with a degree in Nutritional Sciences then spent a few years studying, teaching, and researching metabolism and physiology. He then went on to become a personal trainer to put his knowledge to use. Danny specializes in coaching the sport of powerlifting, corrective exercise, and kettlebell training.
Tucson Strength started in the summer 2010 in a small community park under the name Evolution Fitness. I had a handful of kettlebells and 5 ladies that wanted to get in better shape. I had just quit my job managing a gym chain and was frustrated with what was happening in the fitness industry. Mindless high intensity exercise with little to no instruction seemed to be the trend. I knew I had a better way to train people an a passion to build a community of people that believed strength has a greater purpose.
What is Lift Heavy Love Dogs? We absolutely love dogs here at Tucson Strength and we have partnered with The Sanctuary Project, a local Tucson dog rescue...
Fascial Stretch therapy in tucson Fascial Stretch Therapy is a great way to improve flexibility and mobility, increase performance, and improve recovery. If you are heavily...
Full Body Follow Along Mobility Session Mobility Training is one of the biggest reasons people come into our gym for help.  Without mobility, there is no...
Excellent
4.9
★
★
★
★
★
Based on 209 reviews from
review us on
Stefan Lyren
★★★★★
Renee Lawton, DMD
★★★★★
10/10 favorite gym in Tucson! And I've been to quite a few of the other locally owned facilities over the past decade. Danny created something amazing and I'm glad I get to be a part of the Tucson Strength community.
Response from the ownerThank you so much. We are grateful that you are a part of our community Rene.
Alex Grabowski
★★★★★
Great gym, high quality equipment, always adding more. There's so much stuff here that you won't find at a commercial gym that helped make me a more well rounded athlete. Lots of serious lifters and great trainers who you can learn a lot from just by being around. great for anyone, beginners to advanced lifters. Best gym in Tucson hands down
Response from the ownerTa\hank you Alex. We really appreciate the review. Thanks for being a part of our community.
Jon Roe
★☆☆☆☆
Response from the ownerthanks for the 1 star!!
Hehe Ayup
★★★★★
Expensive and worth it. The community is hardworking and into their workouts, often times you can feel the intensity of the gym and it really gets you ready to work out. It's not a big gym but has all the important machines and if you're comfortable around weights this place will work great for you. Also has a smaller outside gym which in the summer is rough but is completely kitted with equipment. So far really happy with my sessions here.
Isaac Ibarra
★★★★★
Jeremiah Garcia
★★★★★
J.G
★★★★★
Sometimes all I think about is you, late nights in the middle of June. Heat waves been faking me out, my GAINZ are happier now.
Response from the owner😂😂
No
★★★★★
Mark Metcalf
★★★★★
By far best gym in town! Power lifting stations, tons of free weights and super friendly staff!!!
Response from the ownerThank you Mark. We appreciate it!!
Ryan R
★★★★★
TheDJChristoph
★★★★★
This is just a fantastic place to get your workout in. I got the day pass (15$) because I was only visiting Tucson, but it was definitely worth it and I will be back to this place next time I'm in town! All the equipment you could ask for and a truly wonderful vibe - incl. the community which you can feel even as a visitor!
Response from the ownerThank you! So happy you enjoyed your time with us! Hope to see you again soon.
Alex Barone
★★★★★
I enjoyed a few day passes at Tucson Strength while visiting. If I lived in the area, this would 100% be where I go to work out! The equipment is stacked with amazing deadlift areas (hard to come by at big box gyms), there's an outdoor area, the gym is spacious, and the staff / other members are friendly and serious about training. I hope to come back.
Sean Chen
★★★★★
Good equipment, nice people and employees. Wide variety of things to do and people are always willing to help out if you need it.
Response from the ownerThank you Sean. we appreciate the review.
Senen Guzman
★☆☆☆☆
Very rude on the phone. Stay far from here.
Response from the ownerNot sure what happened but feel free to email with a the details of your experience.
sinj.n
★★★★☆
alexander fournier
★★★★★
The best gym I've ever joined. Hands down. Would never have expected it to be in Tucson Arizona but this place is incredible.The equipment, the people, the health and wellness extras are all top tier. Really cool outdoor workout area for the winter months too.If you treat the place with respect it will feel like a second home.This placed helped me be the best version of myself. It will do the same for you.
E A
★★★★★
Great gym and owner, plenty of equipment and space. Coaches are awsome and everyone there is very polite. Highly recommend if serious about getting fit and power lifting.
Response from the ownerthank you. we appreciate it!!
Chris Elliott
★★★★★
The atmosphere equipment and community here are amazing.
Aaron Botelho
★★★★★
Javier Hernandez
★★★★★
Jesse Hill
★★★★★
Absolutely love this place! Danny has done a phenomenal job of creating a great facility and has a friendly knowledgeable staff to help you reach your goals. I absolutely recommend.
Jennie Uhlmann
★★★★★
Hands down the best gym I've ever belonged to, with the most down-to-earth and knowledgeable owner and staff I could hope to encounter.I came across Danny and Tucson Strength several years ago when looking for an intelligent and well-versed trainer when my daughter needed to build strength after suffering an ACL tear. Danny's knowledge of functional movement and individual attention to my daughter made him stand out far above all the other trainers I spoke with. He and his staff understand that every body is different, so the attention to the unique characteristics of every body and personal goals - it is not a cookie cutter place where people just throw weights around in order to look good.After Danny worked with my daughter, I was impressed enough that I came back with a friend and began one-on-one personal training with Christian. We have stuck with this for over a year now, three times a week, and I cannot express my appreciation enough for the intelligence and personalization Christian brings to the workouts- but also a great personality that makes this 50-something woman feel at ease even though I am clearly not the "gym bro type". There are lots of guys who work out here, too, don't get me wrong. But I've never felt out of place nor confronted with women wearing heavy makeup and preening in the mirrors like I have been at other gyms.There is a huge range of clientele in terms of men and women of all ages- from younger teens to retired people, from people who compete in power lifting competitions to those stepping into the gym for the first time ever. What is astounding is that EVERY SINGLE PERSON is put at ease and is treated with respect and professionalism, both from staff and from every other member I've ever encountered.I personally had experience in lots of different kinds of gyms in my lifetime. I have played sports, done CrossFit, run marathons and worked out by myself and with trainers. My friend and workout partner had never lifted a weight before in her life before setting foot in Tucson Strength. For both of us, the gym and our workouts there with Christian are often the best parts of our week. We leave feeling positive and stronger, and never embarrassed or that we didn't belong.Thank you, Danny, for putting together and running a fantastic place for people to work out. And thank you, Christian, for challenging us and making us stronger and more knowledgeable about our bodies, and somehow still allowing us to have fun while doing it. I cannot recommend a gym or trainer more highly.
Response from the ownerThank You Jennie. this was amazing. We appreciate you and thank you so much for spending your time to write this.
Susan O'Cain
★★★★★
Best gym in Tucson. Training and classes are first rate. If you want to get stronger, this is the place. It is a community with strong support from both members and staff.I still love this place. It is FUN! Staff is knowledgeable and approachable, facility is BEAUTIFUL! Danny is constantly looking to improve his gym. New, state of the art, equipment comes in often.
Response from the ownerthank you susan. we appreciate you a ton.
Elisa Montoya
★★★★★
When I first moved to Tucson, I wanted a gym that reminded me of home. My last gym was family owned and ran, loaded with classic old school lifting equipment and no AC! Members were treated like family and I've found that here at Tucson Strength. I've been spoiled so much with the powerlifting equipment TS has that when I workout at other gyms I am greatly disappointed/underwhelmed. I appreciate the fact that Danny is always seeking to improve his gym whether it's new equipment, new services (ready to eat me prep, nutrition coaching, sports recovery room) or new systems to make checking in after hours easier/convenient. The coaches are all so amazing. I look forward every day after work to see each of them. They always have a smile on their face and greet you when entering or leaving. Front desk staff are super welcoming and helpful with everything. I really really love this place. It's so special ❤️
Response from the ownerYou at the best. thank you for being such a a awesome part of our community
Ryan Bustamante
★★★★★
Excellent facility. I love training here. Ton of kettlebells, barbells and everything in between. Also have an outside facility. Staff are very friendly.
Response from the ownerThank you my man!!
Dan Patrick Photography
★★★★★
Danny is legit, this place is amazing and money well spent on membership. Non judgmental people lifting here and great classes. Do yourself a favor and sign up. Get fit and healthy.
Response from the ownerThank you my man.
Bernadette Capossela
★★★★★
I really love it here! Group training is awesome and each instructor brings their own flair to their classes. Focus is on form and I love the reminders about keeping tight and which muscles to focus on. Gym hours are great for any schedule and parking is plentiful. Doesn't hurt that it's close to home either!
Response from the ownerThank you Bernadette, we appreciate you.
Anna Palechek
★★★★★
Owen MacDonald
★★★★★
Best gym I've ever been a part of. The equipment is the best you can find, and the community and staff are friendly, knowledgeable, and have great gym etiquette (and strong).
Response from the ownerThank you Owen. We appreciate it.
mark romie
★★★★★
My go to gym when I visit Tucson! There is great equipment and a very friendly staff.
Response from the ownerthank you Mark!!
Michael Rutherford
★★★★★
Amazing facility! Offers a little bit of everything. Everything is organized perfectly. Environment is friendly and motivating. Only gym I will go to in Tucson. Completely unrelated, but the owner is a total hunk!
Shadi Zahed
★★★★★
I'm not a regular, but was allowed to buy a pass today to test my maxes. The only thing preventing me from becoming a member is that the air force gym is free and closer. With that aside..- Very clean, new and diverse equipment available. Plenty of racks, benches, and deadlift platforms. SSBs, squat bars (55lbs), Deadlift bars, hex bars, camber bars, Oly equipment, indoor turf for conditioning, and round metal plates. If you're a powerlifter, this is the gym.- affordable. Also the options for a day pass were either pay for the pass, or purchase a shirt instead. That was a no brainer, so we bought two shirts!- staff/owners are clearly lifters themselves, reasonable and knowledgeable.- great hours and location, open early until late at night. They also offer prepped meals inside, although I didn't try any.- accessible to elite athletes and novice lifters. They host lifting programming classes including/up to a peak and mock meet. New lifters can feel comfortable learning in this environment. At the same time, I saw a guy deadlift about 700lbs for reps.No complaints at all! Again, I'd register if logistically it made sense to me, due to money and travel time, it simply does not (for now!) I'll come back for mock meets as long as I am welcome.
Response from the ownerthank you!!! we appreciate you.
Themerc240
★★★★★
Friendly environment. Lindsey at the front desk was a sweetheart. I won't go into detail, but the staff went above and beyond what they had to for my friend and I.The gym comes equipped with Olympic lifting platforms with a plethora of plates and barbells. I know this place is serious because their plates were in kilos going down to 0.5kg. It also looked like they had powerlifting equipment and a turf area for metcons and sled pulls.I've been driving across the US the past couple of months and I'd rate this gym among the highest for its atmosphere, equipment and staff. The drop in fee was 15 dollars- highly worth and would definitely come again.
Response from the ownerThank you so much! We appreciate it.
Jared Russell
★★★★★
Response from the ownerthank you very much Jared!
Javier Cross
★★★★★
Yvette Villamana
★★★★★
Clean, great equipment,wonderful professional owners and staff.Best gym in town!
Sara Steuble
★★★★★
TL;DR: This place is amazing and you want to work out here.This place is the best. It is hands down the best gym I've ever been apart of (and I've been apart of many). From personal training to the barbell club to open gym--I have everything good to say about Tucson Strength. The trainers here are knowledgeable and kind and provide a ton of support--even if you're not their client. The personal training is actually worth the cost--it's effective and educational. Everyone is so friendly--the staff and the members. People learn and remember your name. They remember what's going on with you and they ask how you're doing. The owner Danny is just a remarkable human and has helped me so much over the last couple years. He's generous with his time and knowledge and also hilarious. I've struggled with consistency and he just keeps trudging with me to figure out what's best for me and what I need. I'm so grateful for that. The gym is always clean when I'm there, there's lots of equipment (esp. stuff you don't see at other gyms) and space...the turf area is great for pushing sleds and stretching and it's large enough that I don't feel like I'm on top of other people to stretch comfortably. The outdoor area is dope too and even though I rarely use it, I like having the option. Tucson Sports Recovery also has a space in the gym and they've helped me a ton. Massages and dry needling have helped keep me functioning well. Shout out Noah/Graham/Jody--y'all are great. 5 stars for you guys too. The biggest thing for me at Tucson Strength I think is..it's safe. I feel safe there and I feel welcomed there and I feel like people care and that's not something I can say for all the other gyms I've been to.A+, two thumbs up, double high fives--Tucson Strength, you're killin' it.
Response from the ownerWe love you. thanks so much
Renee Johnson
★★★★★
Great gym and great people!
Response from the ownerThank you Renee!!
R Tin
★★★★★
Great place to train and learn! Great lifting buddies, such a positive atmosphere, where everyone has goals, and we all encourage each other! Something for everyone here! Only place I want to be! Love my Tucson Strength & Tucson Barbell Team Family!
Eddy Bhappu
★★★★★
Aiazbek Mustakov
★★★★★
Well if you are looking place to train in Tucson look no further. Strongfirst affiliated, super clean, mega nice stuff ( yes I said Mega because of Becky and Gram). Solid overall equipment, some of the set ups are really unique. Drop in are welcome and tons of parking. Loved it.
Response from the ownerThank you!
James Johnston
★★★★★
THE best gym in Tucson! Caring staff members who help you correctly train - to prevent injuries and insure overall health and longevity for your personal health goals. The equipment is bar none the best in town!
Marshall Powell
★★★★★
Everything that you need for powerlifting but also tons of machines for accessories. Equipment is all well maintained and looks brand new.
Response from the ownerThank you Marshall. We appreciate it!
Marsha Madigan
★★★★★
A true strength-building gym. Outstanding equipment for weights and cardio. Excellent kettle bell classes, for all ages and abilities. Unique Original Strength classes. Wonderful trainers who work with all types of clients to support the client's goals. Welcoming team, wonderful facilities. Family- owned and operated, local business, creating a very supportive community. Highly recommend.
Response from the ownerThank you Marsha. We appreciate you and Bill.
Benjamin Zwillinger
★★★★★
Visiting Tucson for the week and got a day pass here. Fantastic gym with a great vibe and awesome equipment. Great selection of free weights, squat racks, deadlift platforms, and strongman equipment. Really impressed! Wish I lived closer so I could work out here more often.
Response from the ownerthank you
sergio martinez
★★★★★
matthew woodward
★★★★★
The owners are very kind and nice. Everything you would want and more equipment wise. Highly recommend. Good for group stuff from what I've seen or if you just want to put your head down and work.
Response from the ownerthank you Matthew. We are glad you are with us.
Michelle Serna
★★★★★
This is the *best* gym I have ever been to. Going to literally any other gym in Tucson would be an incredible disservice to yourself. From top to bottom the experience of being a member at Tucson strength is one of the best experiences I've ever had, and not just in fitness. The facilities at Tucson strength are incredible. High end equipment, cleanliness, and something for anyone in any point of their fitness journey. Every single trainer and employee at Tucson strength is highly knowledgeable and helpful. Every athlete is treated with the same respect and seriousness. I have never and I mean NEVER been able to fall in love with going to the gym until I came here. When I tell you I am there 6-7 days a week and EXCITED TO BE THERE. If you are intimidated by the price let me just tell you this: Danny could double his prices tomorrow and I wouldn't even blink. You'd still find me there everyday. Do yourself a favor and come here. You will not regret it.
Response from the ownerYou are amazing. thank you. This sums up our values. We love having you with us and love giving you a hardtime sometimes as well. 🙂
Miguel L
★★★★★
The BEST gym in Tucson!Extremely knowledgeable and experienced staff who regardless of your goals, Whether it's weight loss, speed/mobility or strength related someone in the building is more than happy to help. Several unique specialty pieces of Equipment and A Lot of space to use it, I've never even had to wait for a rack, dL box or bench! One of my favorite spots, is the outdoor lifting area! An area originally created to STAY OPEN during pandemic closures has expanded and is here to stay!!!From day one the owners Danny and Selma will tell you its a community and we are there to look out for each other and you'll see its true everyday.I joined just earlier this year and the only regret I have is not joining up sooner!!
Response from the ownerthank you my friend. we love having you with us.