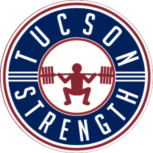 We have numerous programs at Tucson Strength to fit the needs of our community. We believe in building community over being gym that strives to just fill the floor with thousands of members. Whether you are an elite athlete or a beginner, we have a program to guide you on your journey.
Unlike the big box gyms where you are just another sale in the system, at Tucson Strength you will be a part of a great community. If you are looking for a $9.95 gym we are not going to be a good fit, but if you are looking for an amazing gym with an awesome vibe, great coaching, and the best equipment Tucson has to offer you have found your new home. Also we have a HASSLE FREE SALES POLICY. We don't practice any high pressure sales tactics.
SEE ALL OF OUR 10 YEAR ANNIVERSARY SPECIALS ON OUR GYM MEMBERSHIPS AND GROUP TRAINING. FOR PERSONAL TRAINING SPECIALS GIVE US A CALL TO SET UP A CONSULTATION.
GYM MEMBERSHIP
(Group Training Classes are not included in Gym membership options)
10 YEAR ANNIVERSARY SPECIAL 6 MONTH MEMBERSHIP _$0_ENROLLMENT FEE
$0 ENROLLMENT!
$5 Barcode Fee
$55 Paid Monthly- must set up on AUTOPAY
1 YEAR MEMBERSHIP
$75 ENROLLMENT FEE
$5 Barcode Fee
$49 Paid monthly – must set up on AUTOPAY
MONTH TO MONTH
RE-OPENING SPECIAL- $45 ENROLLMENT FEE
$5 Barcode Fee
MUST set up on AUTOPAY w/30 day notice to cancel
3 month Paid in Full
NO ENROLLMENT FEE
$5 barcode fee
1 YEAR PAID IN FULL- BEST DEAL
No Enrollment Fee
$5 Barcode Fee
13th Month Free – Only $46/month
6 MONTHS PAID IN FULL
No Enrollment Fee
$5 Barcode Fee
DAY PASS
CALL FOR AVAILABILITY
(Only available during non-peak times)
2 WEEK PASS
NOT CURRENTLY AVAILABLE
Open Gym Only
1 Month Paid in Full No EFT
Unlimited Open Access Gym Usage (no coaching)
$5 Barcode
INTERESTED IN GROUP TRAINING?
All group training memberships include open access to the gym during all our operational hours! You don't have to pay for an other gym membership to come in and lift on your own or do cardio. Just come on in and use the facility to get some extra work in all for 1 price. Now you can ditch your other membership. SEE ALL GROUP TRAINING OPTIONS HERE
9 Session per Month
9 Sessions per month to use however you like
Open access to our Strength & Conditioning Facility Included
3 Month Commitment
UNLIMITED GROUP TRAINING MEMBERSHIP
Unlimited Access to our Group Training Schedule
INCLUDES GYM MEMBERSHIP
3 Month Commtiment
10 YEAR ANNIVERSARY SPECIAL!- What does it cost to start up?
Includes 2- 1on1 Personal Training Sessions
First Month of Unlimited Group Training included in start up
$5 Barcode additional
CONTACT US FOR A HASSLE FREE TOUR
520-445-6800  
OR EMAIL US BELOW