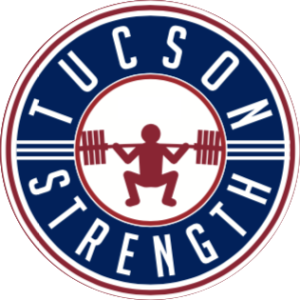 CODE OF CONDUCT
COMMUNITY
At Tucson Strength we like to have fun and joke around often. That being said, we will never tolerate hateful speech or disrespectful behavior toward anyone inside or outside of our gym. We support each other and offer help to members around us.
RESPECT THE FACILITY AND EQUIPMENT
We pride ourselves in offering some of the best equipment in the industry. There are few if any facilities that offer the quality and variety of training equipment we have: real bars, unique cardio pieces, and a fully equipped cross training area. It is the responsibility of our community to keep it nice. If you use it, put it back. If you make a mess with chalk, clean it up.
TRAIN SMART, TRAIN SAFE
Open gym members are expected to train smart: know what you're doing. Train safe: get a spot when necessary, set up safety bars in the squat racks, and especially if training in the OCR area be aware of your surroundings and be respectful of others. Our training environment is very dynamic and you must exhibit situational awareness. Do what you know. Lifting with poor technique or constantly failing reps is neither smart nor safe. Trying out complex lifts or advanced moves without any previous experience can result in injury to yourself or others, or damage to our equipment. If you are a hazard to yourself or others we will offer coaching services to bring your skills to acceptable levels to maintain your membership. If your lack of attention causes injury to others or damage to equipment your membership will be terminated
immediately with no refund.
YOU BREAK IT, YOU BOUGHT IT
You are financially responsible for equipment you break due to negligence or misuse. If you drop a bar on a box and bend it, or "accidentally" put a hole in the wall we will charge your payment method on file for damage incurred.
SHARE THE EQUIPMENT
Work in sets when possible. If you are using a machine and someone is waiting let them work in. Monopolizing a squat rack for an hour to take selfies or cruise social media between sets isn't acceptable. This isn't solely your equipment; the equipment belongs to the community. We understand a 6-foot-tall lifter and a 5-foot-tall lifter probably can't use the same rack, but be respectful and share equipment whenever possible.
DO NOT OFFER COACHING SERVICES
Unless you are a coach at Tucson Barbell Club or Tucson Strength you are not to offer coaching services to any members at anytime. Don't coach our members for money or for free. If you feel someone is doing something wrong or unacceptable bring it to the attention of staff. If you are a trainer or coach training a paying client in our facility, your membership will be immediately terminated without a refund.
CONTROL YOUR KIDS
Tucson Strength doesn't offer child care but we do offer a designated area for well-behaved children who can entertain themselves. Children are not allowed to run through the gym or to use the equipment or training floor. We want you and your kids to be safe.
PED POLICY
We do not encourage any usage of illegal Performance Enhancement Drugs. If you use PED's keep it to yourself. Bragging about how many cc' you are on is not impressive. Usage, promotion, or solicitation of PED's while on the premises of Tucson Strength is prohibited. Any violation of this rule will result in termination of membership with no refund and authorities will be notified immediately.