Nutrition Coach Services in Tucson
Reach Your Fitness Goals with Nutrition Coaching
Have you jumped on and off different diets with little long term success?
Perhaps you've restricted certain foods in hopes it would help you achieve your health goals?
Do you find constantly tracking your calories and measuring your food overwhelming?
If so, we've got good news for you. There is a better way.
With Tucson Strength's Certified Nutrition Coaching, you learn the real tools to build healthy nutrition habits.
Our Nutrition Coaching program focuses on the following key areas for transforming your relationship with food to support your health and fitness goals:
Building Healthy Habits with behavior modification principles
Saying goodbye to toxic diet culture
Eliminating the mindset of "good" and "bad" foods
Offering flexibility in your nutrition plan rather than rigid rules and restrictive dieting
Giving you practical tools the help keep you organized and accountable
Meet your Certified Nutrition Coach
Greta Eastburn is our Tucson Strength Certified Nutrition Coach. As a Precision Nutrition Certified Coach, Greta has the training and experience to deliver lasting nutrition results for all of her clients, regardless of their specific needs.
Greta is both a certified nutrition coach and longtime powerlifting athlete and understands the unique needs of both performance nutrition and general nutrition for weight loss, muscle growth, and overall physical health.
From Greta:
"Treating my clients with empathy and working together as a collaborative team are at the forefront of my nutrition coaching philosophy. I am passionate about sharing my knowledge and experience in a way that is uniquely tailored to each person's individual goals, lifestyle, and preferences.
I prioritize setting my clients up for success by using evidence based methods of behavior change, such as discovering small, practical actions that provide the habit-based foundation for meaningful, lasting results."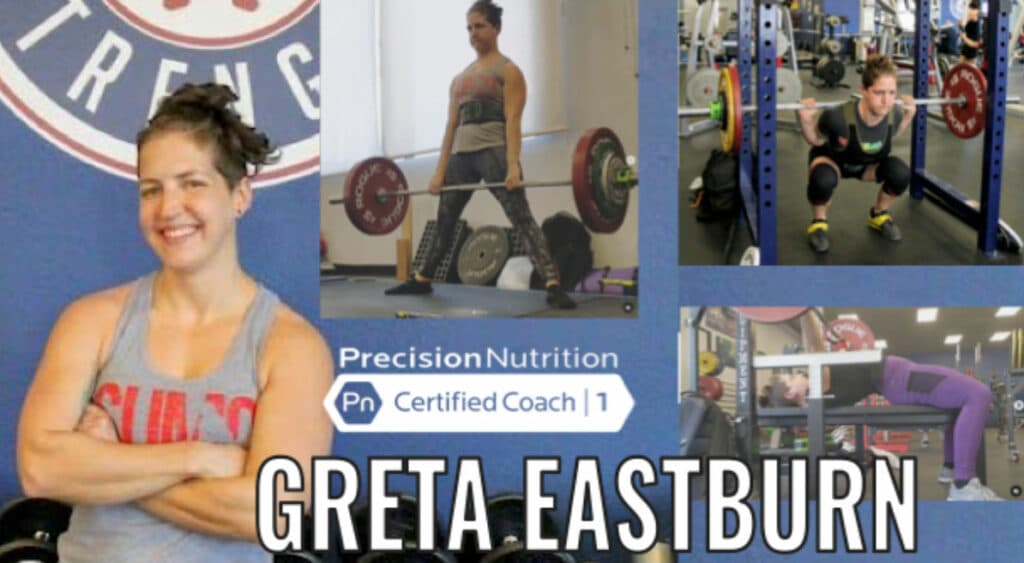 What does our Nutrition Coaching service consist of?
At Tucson Strength, we believe education and effective behavior modification coaching is key to the success of any effective nutrition program.
By utilizing science-backed coaching methodologies and leveraging the Precision nutrition Pro Coach Program, we combine the best of new technology with tried-and-true approaches to developing healthy eating patterns.
We offer a diverse array of program options with varying levels of support to meet your unique needs and budget for nutrition coaching. We do not believe in 'one-size-fits-all' nutrition coaching.
Instead, Greta works with you on an individual basis to ensure we find the right program and framework to help you reach your nutrition and fitness goals through a healthy, positive relationship with food.
The pricing and program options for our Nutrition Coaching services in Tucson are as follows below. Note that all Nutrition Coaching options require a 1-hour Initial Strategy Session for a fee of $85 to ensure Greta fully understands your unique goals and needs with regards to your nutrition program.
Pro Coach Online
Minimum 3 Month Commitment
Receive Daily Nutrition Education Emails

Daily Online Accountability Questionnaire

Weekly Email Check-ins with Coach

Initial Strategy Session is required ($85/hour)
Focused Nutrition Program
Minimum 3 Month Commitment
Pro Coach Online Program Included

1 Monthly In Person or Zoom Strategy Session

Weekly Email Check-ins with Coach

Initial Strategy Session is required ($85/hour)
Optimal Results Nutrition
Minimum 3 Month Commitment
Pro Coach Online Program Included

2 Monthly In Person or Zoom Strategy Sessions

Weekly Email Check-ins with Coach

Initial Strategy Session is required ($85/hour)