Train with Purpose, that saying is in everything we do. It represents us in our deepest Core Values and has differentiated us from others in the fitness industry. So many gyms fill rooms with dozens of people per class and scrap together random acts of exercise coupled with high intensity. Though this has become popular, at some point you have to wonder, "Why the hell I am I doing this?" We have, and will always program our classes with a goal in mind so that our members can progress and become stronger and more conditioned. This is different than just making workouts harder or more challenging. Reaching certain levels of strength and conditioning takes focus, consistency, and smart programming. The best part of our philosophy is that we never focus specifically on weight loss, but if that is your goal and you commit to our training, it will happen. Our programming focuses on better movement, building a base of strength, and then becoming a conditioned human.When we first opened Tucson Strength (formerly Evolution Fitness) 7 years ago, we set numerous strength and conditioning standards for our community. These standards not only represented strength and conditioning but also a level of mastery of proper technique while lifting. Strength at the expense of poor movement wasn't rewarded. As members trained for these goals they would be able to earn shirts for each level of strength and conditioning achieved. As we grew over the years it became challenging to have our hands in everything, and we stopped this tradition. Well…… we have decided as a team to bring this tradition back. We are proud to announce our shirt testing system is back! The standards have changed a bit to represent our evolution and all of our programs. The new system will represent kettlebell training, barbell strength, running, and rowing. We will have 4 shirts to achieve as well as some milestones between shirts, but right now we will announce our first 3 levels! 
HOW WILL IT WORK?
Testing will be done on set dates over the course of the year. Testing dates will be spaced out 3-4 months apart. They will usually take place on a Saturday morning and everyone will partake in the testing together. Some of the testing can be done outside of these events, but these will be due only to unique circumstances. Certain aspects of these shirts may need to be done on different days such as the run test for the Black Shirt, or possibly the 2000m row for the Red Shirt. It will be up to the head instructor's discretion to allow any alterations to the testing. 
Testing will Cost $25, which includes the shirt and food and fun afterward! If for some reason you don't earn your shirt at the testing, the $25 will go towards the next testing period (can only be transferred once).
Who Should Test?
We feel that there is something for everyone to train for. We believe that the Blue Shirt is open to nearly everyone. For most people, the Blue Shirt will be the starting point. There will be a few people that will have the opportunity to test directly for the Red Shirt. This will only be done with the approval of the head instructor, Danny Sawaya. If you have any medical conditions that you feel affect your eligibility to test for a shirt there may be some appropriate modifications for specific standards. If you have been with us for 3-6 months, you may be ready to take on the Blue Shirt. If you feel like you need some work on certain areas, then let us know how we can help.
BLUE SHIRT 
The Blue Shirt represents that the student can demonstrate proper form and technique of some of our fundamental movements. Mastering proper form is crucial before building strength and conditioning. This focus on form and technique will allow each class at Tucson Strength to have not only a goal of hitting certain strength landmarks but doing so properly. There is always something to work on. There will be days where the body may feel tired. Instead of hitting a training session with all out intensity this is the time to dial it down and make each set effective, even if it is with a much lighter weight. Our programming in the classes will reflect these standards. Our staff will be buckling down on technique, but we will also make sure to have a fun and get a challenging training session. For many of our current clients, the Blue Shirt may seem like a walk in the park, for others it may be a goal to train for over many months. For even our strongest and most experienced clients, form and technique will need to be honed in on to pass this shirt test. For a small few that have been with us for years, we may allow them to skip the Blue Shirt and progress to Red, but this will be at the discretion of the training staff and myself.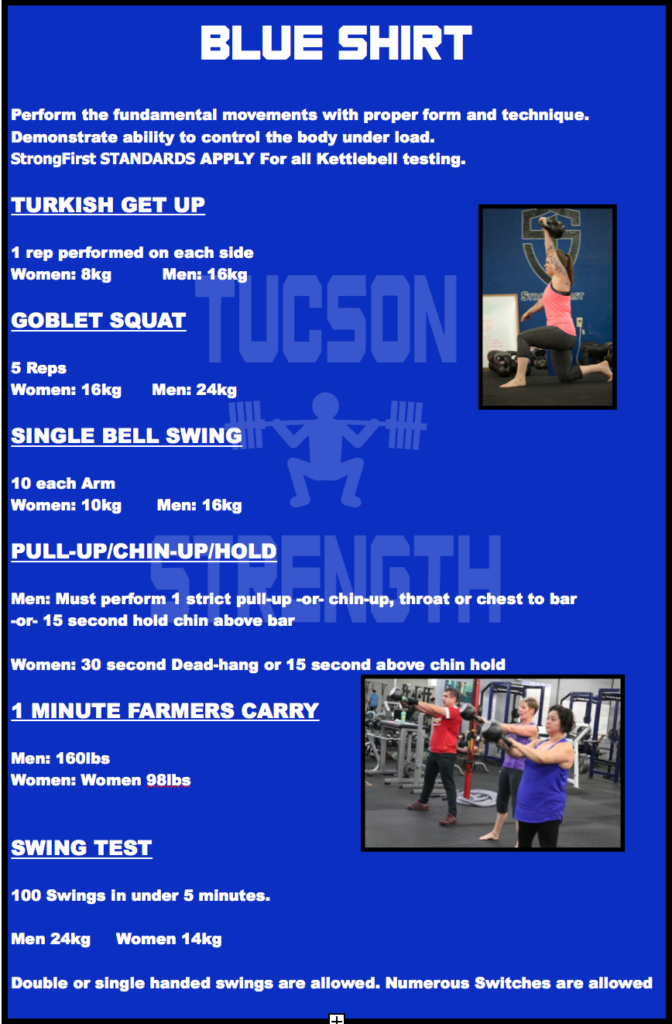 RED SHIRT
In order to earn the Red Shirt, you will have a serious focus on proper technique and form as well as consistency and commitment. This shirt will push some people out of their comfort zones not only in the realm of strength but also in conditioning. For some, many of these goals could seem out of reach, but they were designed based on years of experience and on the accomplishments we have seen from those who have put themselves fully into our system. No more picking up the same bell month after month or year after year or staying in the same class every single week in your comfort zone. This will take some exploring of other programs such as rowing or barbell club. Possibly working with a coach on your deadlift and getting a program designed specifically for you. It may take coming in on an extra day or staying after class to work on your rowing. We will help guide you on this journey, but this process will require you to be coachable and follow a plan. If this goal seems so out of reach, realize that we believe these are achievable by most of the people that walk through the door if they put their mind to it and are hungry to make training a focal point.  Remember, gains in strength and conditioning are achieved by making incremental gains over a long period of time. Consistency and focus are the keys. You will possibly need to look at your training in seasons to work on different aspects of your strength and conditioning. If you want more out of your training than "exercise" this goal is worth it.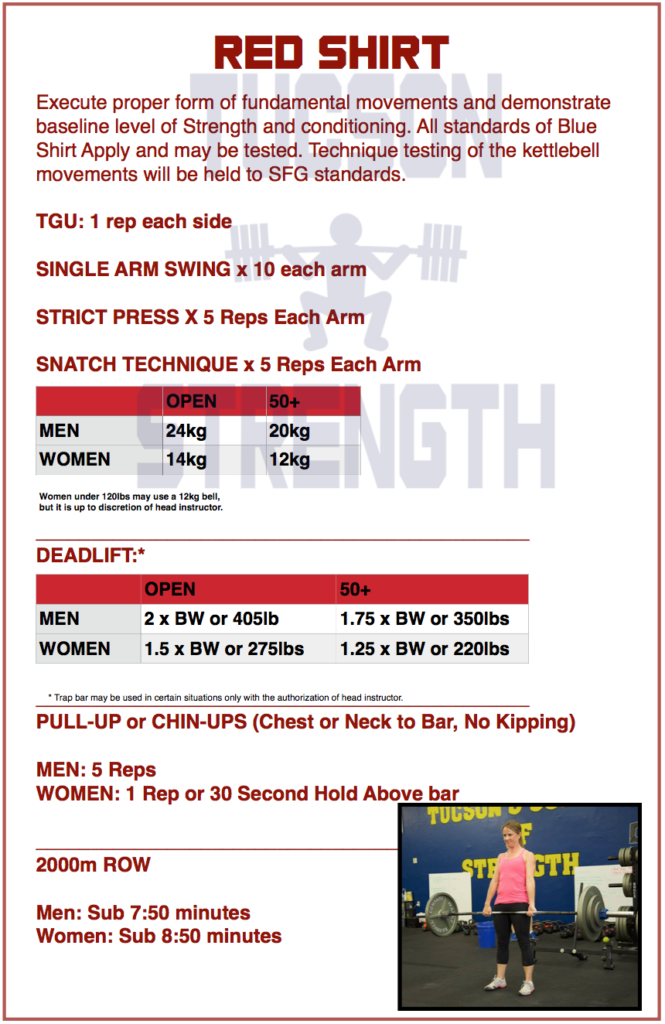 BLACK SHIRT
The Black Shirt is commitment and consistency. For some, this shirt may take years to achieve and others may not choose to take on this challenge.  Not only will you be a highly fit and well-rounded individual, you will represent a level of mastery in your training. This isn't just about becoming stronger and highly conditioned, but also represents having a deep understanding of the how and why of training.  Achieving the Black Shirt will take organizing your training over long periods of time. You will need to build an aerobic base of training while building strength. Working on your running technique and with our running group may be a part of this process. Working with a coach to set out the game plan and stay organized will be crucial.  Due to the extensiveness of this testing, some the requirements will be done over a period of time and not achieved in 1 day. The run will be done within 14 days of the final testing and some of the testing may be done 1 on 1 with Danny Sawaya. 
Receiving individualized programming and putting in extra hours of practice on your own time will be a must to earn the black shirt. This shirt will also require a positive and helpful attitude as the Blackshirt will put you on the pedestal in this community. Just meeting these requirements isn't enough.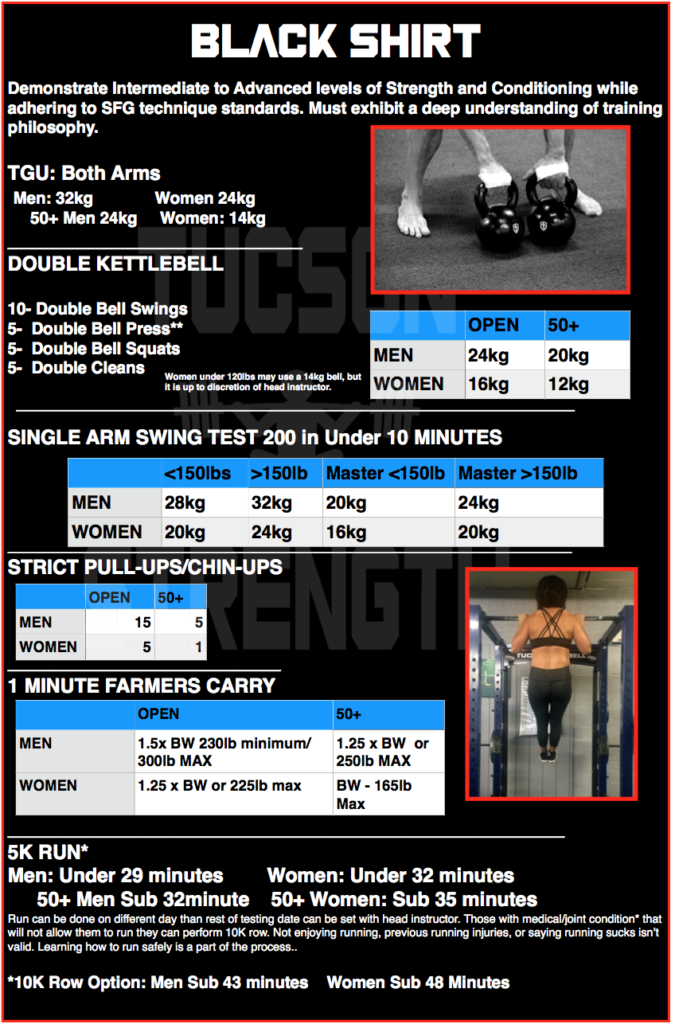 NEXT TESTING EVENT
TESTING for BLUE and RED SHIRTS
AUGUST 26, 2017          10:15am