All of us are continually growing and changing. The promotional video above was recorded about five years ago when we still called our gym Evolution Fitness. Since then we've changed (like everyone does) and now we call ourselves Tucson Strength.
Our taglines still apply. At Tucson Strength we believe life is too short to be weak and you make gains when you train with purpose.
By providing training targeted at those goals we help you move better, get stronger, and be more awesome than you already are! There are no fads or crazy diets in this program, just hard work. You get out what you put in. We'll make sure to provide a supportive environment and teach you the skills to help you be successful. Check out the details below to get started.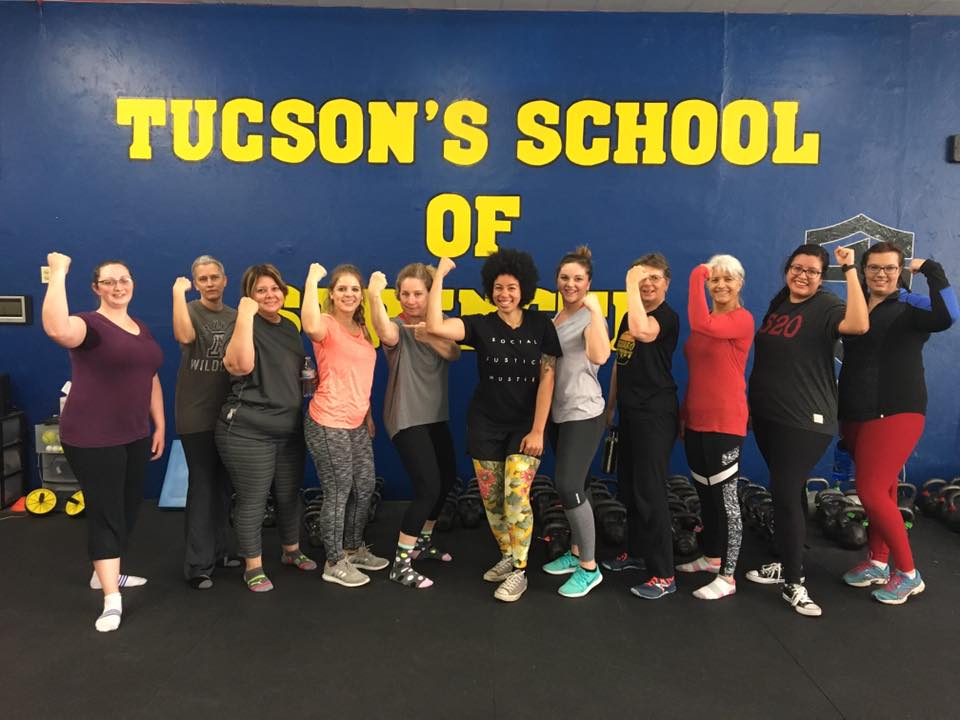 The Strong and Healthy Woman Program (SHWP) was designed to support women like you. Sign up for this six-week program and take the first step toward:
building a foundation of strength and health that carries over into all aspects of your life

leveling up your competency in a gym environment by gaining skill with strength-training protocols using kettlebells, Concept2 rowing machines, HIIT programming, and barbells

changing your relationship with food

developing a social network of women who share your same goals
The program includes:
An initial two-hour workshop where you'll learn the basic plank, squat, and hinge movements and record your beginning baseline strength

Six weeks of small group training meeting three times a week, teaching you the fundamentals of strength training and conditioning as we practice them at Tucson Strength

Unlimited support from highly qualified staff

Six weeks of a proven habit-based nutrition program
LEARN STRENGTH TRAINING PROTOCOLS TO BECOME COMPETENT IN GYM ACTIVITIES
Strength training can be the best thing for you when done correctly. In the SHWP we teach you how to use equipment competently to avoid injury and train hard for results. We teach while we train. Each workout features skill-building instruction supported by guided practice. We want you to get the most out of your training and that means giving you the best instruction we can deliver.
REDEFINE WHAT IT MEANS TO LIVE AND MOVE WITH YOUR BODY
So much of the fitness industry is focused on telling people to be bigger or smaller. We want to help you get stronger so that you can do more of the things that make you awesome. We won't focus on how many pounds you lose and call that a success. We won't focus on your before and after pictures to judge your effort and commitment. We will ask that you give your best shot and show up consistently.
The Strong and Healthy Woman's Program was designed to help you:
BUILD A FOUNDATION THAT HELPS YOU DO MORE IN LIFE
Women come to this program with a variety of goals. Some want the energy to run around and keep up with their families. Others want to be so strong they can push their car to the side of the road if it ever breaks down. Others want to lose weight the smart way! This program is designed to build a foundation of movement and skills to help you accomplish your specific goals. Our qualified staff will provide support and encouragement to keep you accountable.
WE FEEL SO CONFIDENT IN OUR PROGRAM WE WILL OFFER A MONEY BACK GUARANTEE!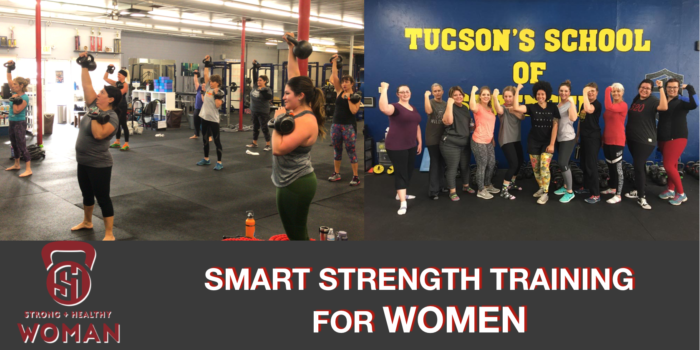 When are classes offered?
UPCOMING KICKOFF IS MARCH 28, 2020  
Classes meet midmorning on Mondays, Wednesdays, and Fridays at 9:30am. Click here to register.
OR
Classes meet at night on Tuesdays and Thursdays at 6:15 pm and Saturdays at 8:00am. Click here to register.
If you have questions about getting started sooner, please call us at 520-445-6800
Join our Newsletter and Social Media for Updates
What's included in the program?
6 Weeks of small group training that meets 3x per week.  
Unlimited support from highly qualified staff
6 Weeks of a proven habit-based nutrition program.
Access to private Facebook Support group.
Access to some of our other group training programs and open access gym!
NO ADDITIONAL MEMBERSHIP FEES ARE ADDED TO THIS PROGRAM
AND WE WON'T MAKE YOU BUY ANY SUPPLEMENTS OR ANY OTHER PRODUCTS
A friend noticed my change and encouraged me to take an after picture. I hate taking pictures so I have very few, but I was amazed. In the past 5 months I am down 32 pounds. I would have never done this without joining Tucson Strength. Weight training is a true key to success…

Oh! and I did 5 pull-ups this morning (with a band), but I could not do this when I started this journey!
This program has changed the way I think about exercise completely. This has brought so much value to my life, helping me to take control of my mind, health, and body.