At Tucson Strength we focus on your goals and see how we can best help you achieve them. Whether your goal is strengthening your body after injury, losing weight and leaning out, or wanting to improve strength and performance we can design a program and train you to achieve it. We have worked with Olympians to 85 year old clients that want to stay active and healthy.  Our personal trainers at Tucson Strength have a diverse background and we will make sure to put you with the appropriate coach based on your goals, personality, and availability.
One on One Personal Training
We pride ourselves as offering the best personal training in Tucson. Our personal trainers will spend more money on continuing education in one year than most multiple big box gyms combined. We don't dabble in training or just count reps and go from machine to machine.
HOW PERSONAL TRAINING WORKS AT TUCSON STRENGTH?
In your initial consultation we will help you define and fine tune your goals so that they are specific to you. In some cases we will conduct a basic movement screen and take appropriate measurements to make sure we are designing the right personal training program for you and your body.

BUILD A SOLID FOUNDATION:
Our focus is to strengthen you from the inside out. Other programs start off with conditioning and conditioning alone. Though this may provide some results in the beginning it also usually leads to joint pain and failure to complete a program. We work with your body to strengthen your deep core muscles then strengthen and condition on that foundation. This rarely happens in most programs and fitness settings, but this is the keystone of Tucson Strength.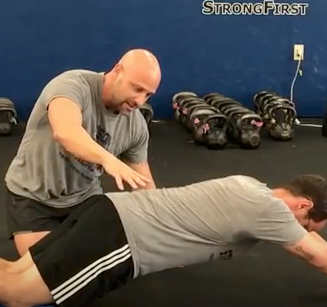 CORRECTIVE EXERCISE
Many clients that have history of injury or back pain will benefit from our corrective exercise program. We specialize in the Functional Movement Screen and helping you work on any imbalances that will show up once you start an exercise program. We will work
with you on teaching you which muscles need to be strengthened and which need to stretched. More importantly which muscles DON'T NEED to be stretched (This is just as important). We strongly suggest that if you have corrective exercise needs that you choose our One on One Training Programs..
IMPROVED PERFORMANCE
If you have a specific goal that can't be met with one of our group training programs then hiring one of our coaches to guide you on your journey is a great option. We can design strength and performance programs for you whether your goal is to move better, hit the golf ball further, lift more more weight, or improve speed and explosiveness.
We have helped thousands of beginners start their journey in health and strength and well as helped Olympians get ready for the games. We have a coach that can meet you where you are and take you where you want to go.
WHY CHOOSE OUR PERSONAL TRAINING PROGRAM?
Professionalism and Highly Qualified

Our personal approach makes a comfortable and fun environment to train in.

We keep things simple while challenging you and progressing you to the next level!