Thank you for visiting Tucson Strength (formerly Evolution Fitness Systems). We are a training facility that offers Group Training and One on One Personal Training Programs. We specialize in helping people move better and becoming more conditioned.  Our team hold's national personal training certifications and specialty certifications in kettlebell training, mobility, endurance training, rowing, and corrective exercise.
We view Personal Training not as the role of just a motivator (really anyone can be a cheerleader), but also as an educator, and as professionals in human movement. Many trainers now a days watch a YouTube Video of how to do a cool new workout and pass it on to clients without any understanding of how that workout will specifically effect that person.
Anyone can set up a workout that will make you sore, but exercise is more than just sweat and soreness. We have thoughtful programs that vary from One on One Training to Small Group Training, so whether your goal is weight loss, corrective exercise, high intensity training, or powerlifting we have program that will help you achieve your goals. Our Training philosophy is always based on making sure proper movement patterns are always used and then we focus to build intensity and strength on a healthy foundation.
EXPERIENCED PROFESSIONALS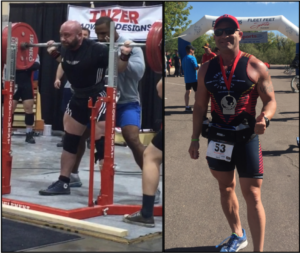 Danny Sawaya, CSCS, FMS-2, USPA Coach, StrongFirst TL,
OWNER/FOUNDER
Danny has been in the fitness and nutrition field for 20 years. He graduated from the University of Arizona with a degree in Nutritional Sciences then spent a few years studying, teaching, and researching metabolism and physiology. He then went on to become a personal trainer to put his knowledge to use.
Danny Holds the CSCS Certification, FMS Level 2, and is also a Team Leader with StrongFirst Instructor. He is also a state referee and Certified Coach for USPA Powerlifting Association . He is also the USPA Records Chair for the state of Arizona
Danny Specializes in coaching the sport of powerlifting, corrective exercise, and kettlebell training. He has worked with MLB Baseball teams and Olympians over the years, but loves working with everyday people wanting to become stronger.
Personally he has been has been a competitive powerlifter, completed a 70.3 Ironman, and runs half marathons. Danny is currently not taking on clients, as he working on growing Tucson Strength. He is still actively coaching the Tucson Barbell Club.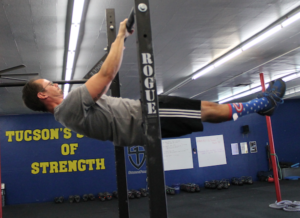 Steve Callahan, NSCA CPT, OS1, C2 Instructor
Personal Trainer
Steve started as a trainer over 10 years ago. He began his journey in health and fitness at 16 years old where he chose to take on a life of strength training and focus on his health.
Steve holds the Original Strength Level 1 Certification, NSCA-CPT, and is a Concept 2 Certified instructor.
He has a strong passion for learning and teaching everything health and fitness, from teaching the fundamentals to advanced concepts of of kettlebell training as well as teach the fundamentals of powerlifting. You will also see that he loves dancing as a day doesn't go by without having him dancing in the gym.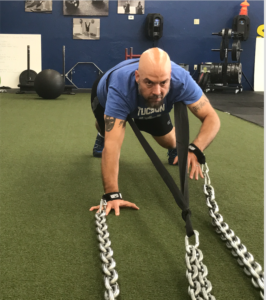 Mike Moran, OS Instructor, CPT
Personal Trainer
Mike's journey in fitness started with Karate in 2007 in the Kyokushin style. He was 29 and had gained too much weight tipping the scale at 300lbs. This ignited a fire in him for moving better and getting stronger. Later in 2008 he would move over to Enshin Karate(grading to 3rd Degree Black 2015 ) and in 2011 started training with kettlebells. Kettlebells led him to Original Strength and he got certified with them and was appointed by Tim Anderson to become the Southwest Regional Instructor. Mike also holds the ISSA personal training certification . Since then Mike has become a student of strength and began helping others. He specializes in movement and strength training using various modalities like crawling, rolling patterns, kettlebells, bodyweight training, barbells, etc. His goal is to help people unlock their bodies so they can move with freedom, strength, and have a life that is enjoyable. When Mike isn't in the gym he trains at Sonoran Brazilian Jiu-Jitsu and spends time with his Wife and kids.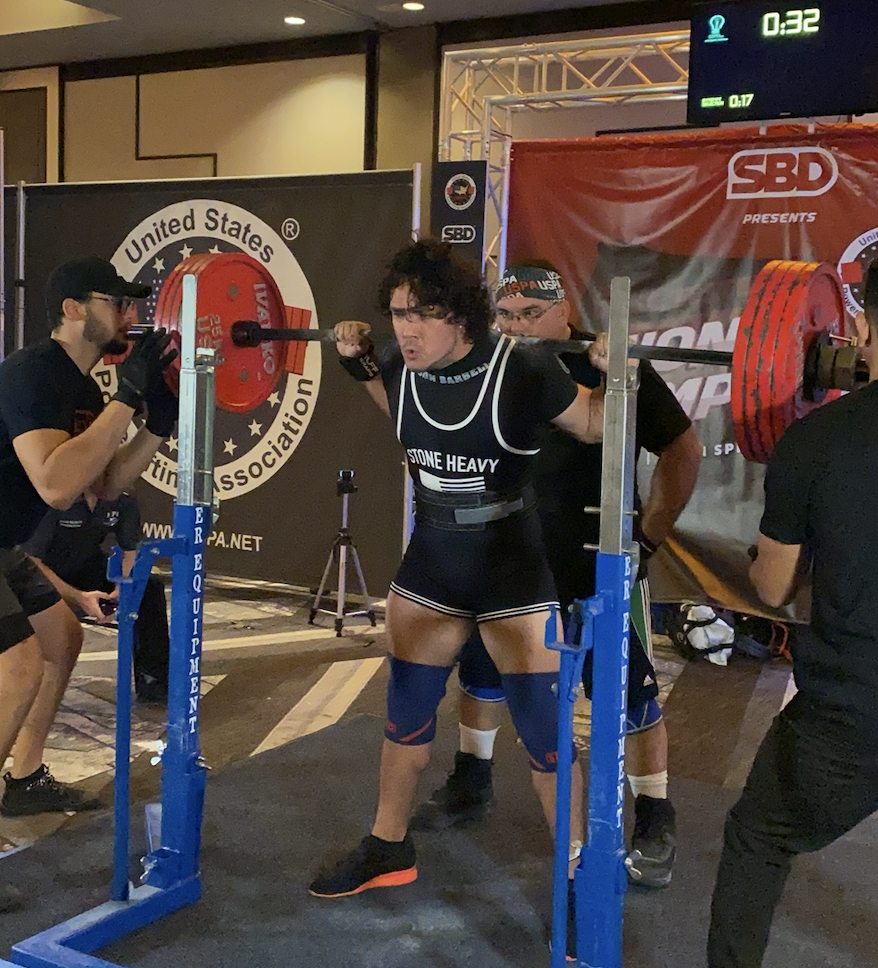 Christian Kruszewski, CPT, USPA Coach
Personal Trainer,
Christian started with Tucson Strength when we first opened in 2010. His parents sent him to us so at 11 years old to work on movement and strength. Fast forward 11 years later, Christian has a BS in Nutritional Sciences from the University of Arizona, is an NSCA Certified Personal Trainer and a USPA Certified Powerlifting Coach .
He is truly a student and teacher of strength and spends a considerable amount of time on continuing education and learning.
Christian doesn't only coach, but he competitively powerlifts. He recently competed in the 2021 USPA Drug Tested National Championships with a very strong showing.
Christian does 1on1 Training and coaches our Tucson Barbell Club.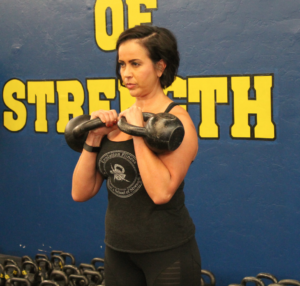 Aracely Favela SFG
Kettlebell Instructor
Aracely started at Tucson Strength as one of our first members back in 2010. After a few years of following our system she took the leap to become a kettlebell Instructor and passed her SFG level 1 in 2014.
Aracely teaches our kettlebell and conditioning classes and she always has something special in store for the students in her class. She knows how to push them and come up with some creative programs.
When Aracely is not in the gym she is always staying physically active taking on new adventures from running races, obstacle course races or taking up a new hobby like golf or boxing.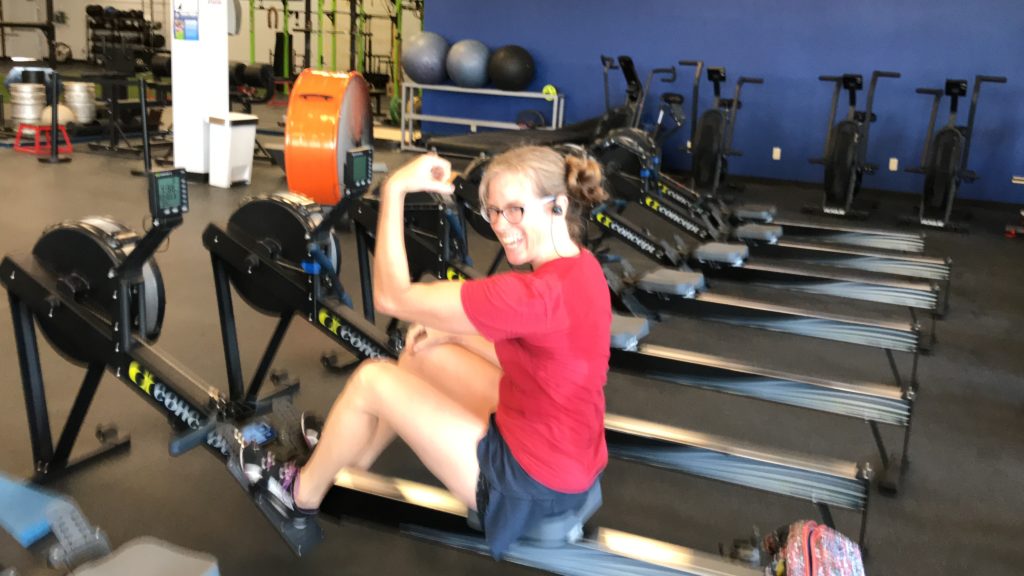 Becky Myrick, PN1
Operations Team/Instructor
Becky joined Tucson Strength as a member in 2015 and joined our team in 2018. She helps run the front desk and is our Operations Manager, making sure we have solid systems set up for our members. She also puts together our amazing newsletter every month.
Becky leads a really active life whether training hard in the gym, riding her bike to work, or enjoying the out doors in Southern Arizona.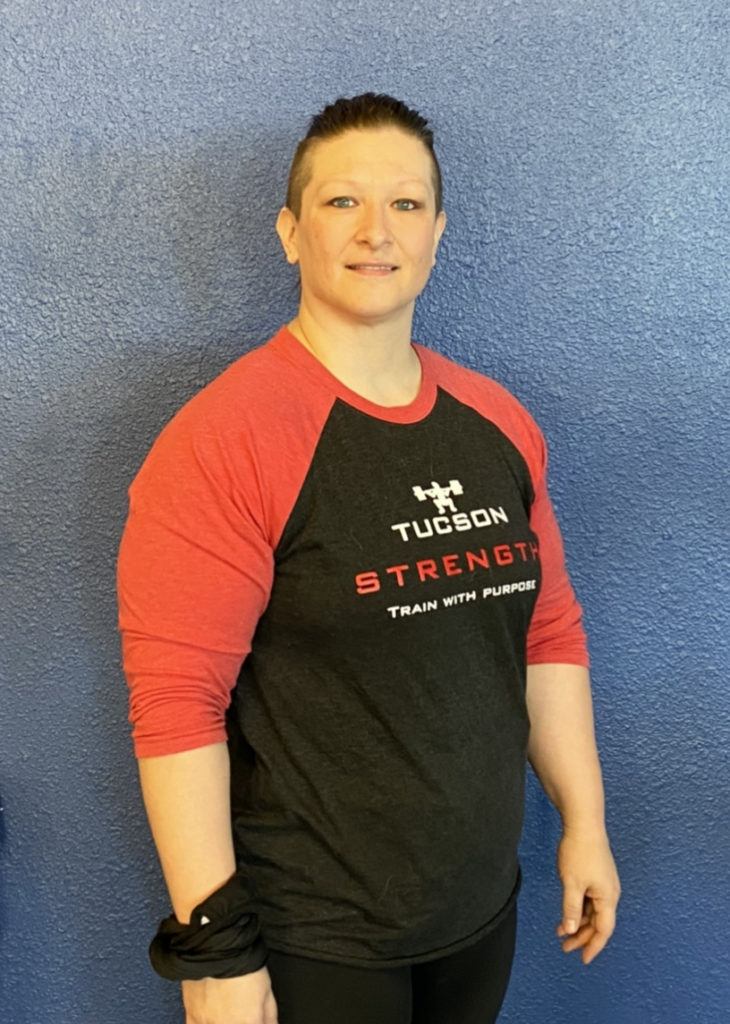 Jessica Vanasselberg
Strength Coach
Jessica has an extensive and impressive background in the sport of powerlifting. She has been involved in the sport since the early 90s and won the 1996 National Championship and best women's lifter. She currently holds the Arizona State and National Records for the USPF womens submasters, and the @uspapower Arizona State and National Records for the womens masters in her weight class. Once we got to know Jess as a member of our community we knew we had to bring her on board as a coach. She has the heart of a teacher and always loves sharing her experience and passion for. the sport. Jess will be coaching some of our Barbell club hours as well as being available for 1on1 coaching. Please help us welcome her to the team!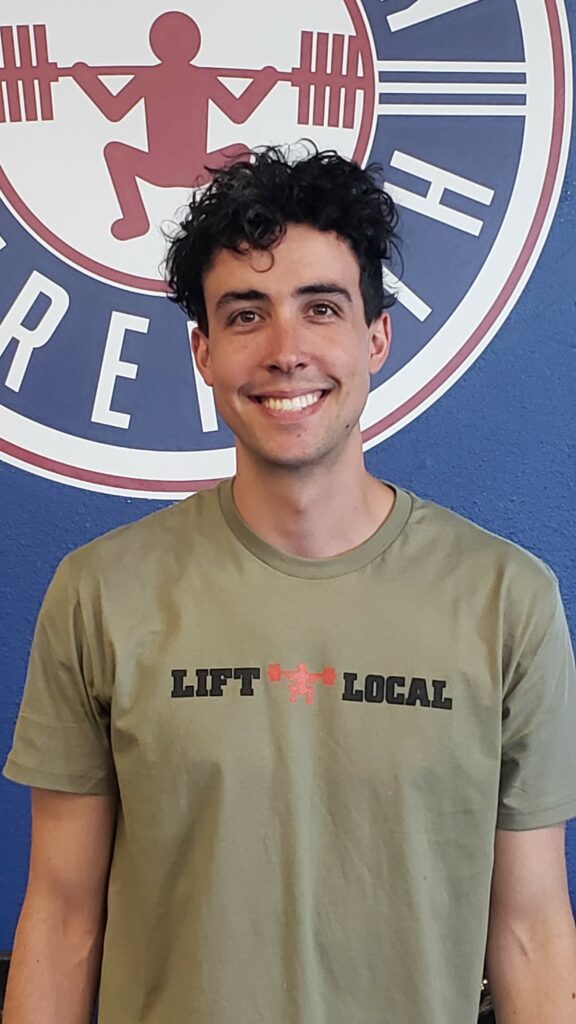 Joe Pettit
ISSA CPT, PFP Certified, Personal Trainer
Joe is our newest trainer to join the Tucson Strength team. He has a background in athletics, namely basketball and golf. Growing up, exercise was a tool for Joe to improve the sport he was playing at the time as well as an escape from everyday life. Jump to today and Joe specializes in dynamic and explosive strength training, teaching his clients how to properly jump, decelerate, sprint, and move their bodies efficiently through space. Joe's training style and mindset are geared towards those who truly want to improve their athleticism and functional strength. Joe is also an instructor for our Strength Club class Monday and Wednesday evenings.
Having a general CPT is the minimum for Joe, he is currently working on his Nutrition, Strength and Conditioning, and Corrective Exercise certifications. When Joe is not in the gym, he is playing club basketball, frisbee golf, golf, soccer, swimming, hiking, or doing anything that get him moving!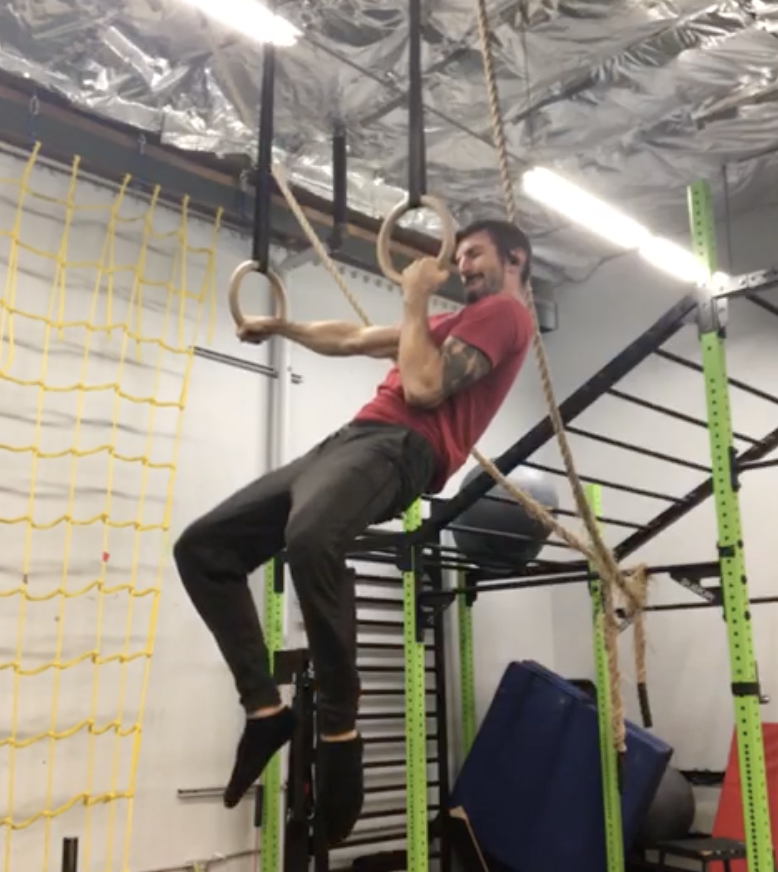 Anthony Shufelt
Certified Personal Trainer / Movement Coach
Anthony began as a yoga practitioner (200hr YTT) and teacher after traveling to Thailand in 2016 to take his certification. He taught yoga for 5 years and has travelled the world participating in yoga festivals and workshops where his interests in a physical discipline expanded into areas of calisthenics and hand balancing. He is now a student, studying the Ido Portal Method under The Movement Standard. Anthony's passion for movement is contagious as he invites people to move in a fun and exploratory manner. His perspective on health and fitness is holistic and looks to encompass all aspects of being.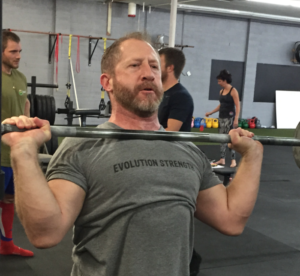 Sergio Giardini
Instructor
Serg has been a trainer for over 23 years. He has been with Tucson Strength since 2013 and he leads many of our early morning kettlebell classes as well as helps coach the Tucson Barbell Club Powerlifting Team.
Serg trains all walks of life, from the person that needs to move better, the elderly client looking to stay active, to the individual looking to put on strength and size.
When Serg has competed in Powerlifting in the past but now focuses mostly on mobility, body weight training, and yoga.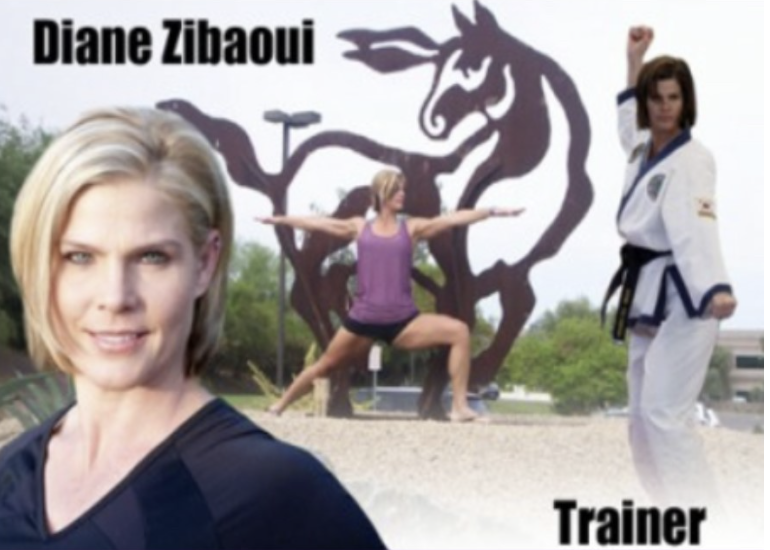 Diane Zibaoui
Personal Trainer
Diane has been motivating and inspiring people to achieve their fitness goals for over twenty years. She is a certified personal trainer with continuing education in nutrition, eating disorders, athletic performance, and heart rate/cardiovascular training. She is a graduate of The Desert Institute of the Healing Arts as a certified massage therapist (1991) and is a certified Yoga Instructor teaching and practicing the depths of Hatha Yoga on and off the mat. Diane is a Master in Martial Arts and holds a 4th degree black belt in Tang So Doo. Diane also has her certification in Functional Movement Systems and applies any combination of these training principles to create custom workout programs. She works with people of all fitness levels and specializes in assisting, inspiring, motivating and educating individuals to achieve and maximize their human potential.