Have you been squatting and feel that it can be improved? 
Do you feel like your squat has hit a plateau?
Have you been wanting to learn how to squat safely and effectively to improve overall strength?
JOIN US SATURDAY MAY 21st, 9am-11am
WE WILL COVER
Squat Prep and Mobility Drills
Set up and Breathing techniques
Assessing which squat style  is best for your body type. Should you use a high bar or low bar position? We will answer this question.
Should your feet be wide, narrow, pointed out, or strait? We will help you figure our your optimal position.
Executing the squat with explosive power.
Understanding how to program the squat as part of a general fitness routine vs. powerlifter.
This is a very hands on Seminar so come prepared to train!
Whether you are a novice, body builder, Crossfitter, or Powerlifter we will help you dial in your squat.
What Does it Cost?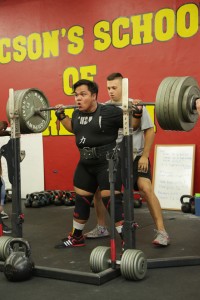 SATURDAY MAY 21, 9-11am
Yes I want to have an awesome squat!