What a wild ride 2020 has been for everyone. As you can imagine being a gym owner has come with some very unforeseen challenges. If I imagined a worst case scenario for my business, I can assure you a pandemic and complete shut down wasn't on the radar. When we were forced to close in March for 2 months it was some of the darkest times I have experienced. I did my best to keep moving. We kept many of our staff employed, prepared the gym for living during COVID, and shifted to offering online options for our clients to keep them connected. It wasn't perfect, but we did our best to adjust. When we were allowed to open in May we were prepared. We created more space in the gym, adjusted equipment, added cleaning stations, and limited our gym capacity. We were ready to go. We had some new members join and started to dig ourselves out of the a huge hole. Just as we hit our stride, we were shut down again at the end of June. The worst part of all of this is, gyms were never proven to spread COVID or be a culprit in the pandemic. Gyms have become the sacrificial lamb in the COVID shutdowns.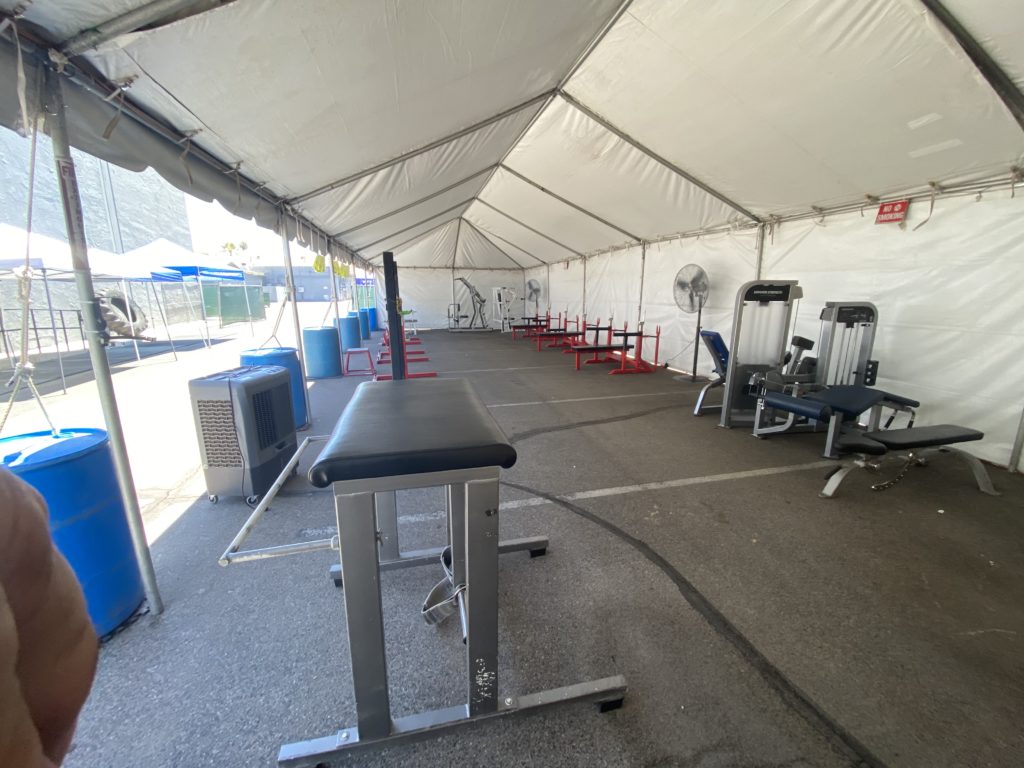 I knew closing down was not an option for us again. I had too many members that shared with me the importance of the gym for their physical, and more importantly, their mental health. COVID has a higher death rate for de-conditioned people and has been a major culprit in increasing the suicide rate. The government took this info, and decided it would be a good idea to shut down the vary thing that helps physical and mental health.
On June 29th, I read the the Governor's mandate which specifically closed indoor gyms. When I read those words, we acted immediately. Within 72 hours we had commercial tents and security fencing installed. We spent a small fortune on tents and cooling systems so we could open up our outdoor gym. It was a risk, but we knew how important this was. Fitness is essential, regardless of what our government thinks. This last shutdown lasted 8 weeks and we were grateful for the support we received from our community. I am very grateful for our staff. They chose to hang out in 110 degree weather for 8+ hours per day. We came together and did what any other gym could have done and chose not to do.
SO WHAT'S NEXT?
We were able to re-open inside on August 13th since the Pima County numbers hit the moderate levels of spread. We are following the list of requirements by the Arizona Department of Health. You can read them here. We have also decided to keep our outdoor training facility open for the foreseeable future. We purchased the large commercial tent, and plan on continuing to rent the smaller tent for a few more months. We know there are people that feel better about training outside. We know as the weather improves the outdoor area will be sought after. We have squat racks, benches, dumbbells, cable machines, kettlebells, and cardio machines outdoors under the big top tents. If we were to be forced to shut down again we already have the means to be able to open up outdoors immediately.
As of now, many of our classes will be offered outdoors. Outside we can maintain distance, not wear masks, and allow for a better workout. Some of our smaller evening classes will be held indoors depending on class size and weather.
We will continue to keep our facility clean and not crowded while following all recommended safety guidelines. We understand the the seriousness that we face here and want to ensure that our members feel safe. We are accepting new members. With the size of our facility and our capacity limits we are able accommodate up to 59 People in our gym at a time. Since we aren't a big box gym that has thousands of members, we are able to easily serve our members without scheduling gym times and limiting workout hours.
We are also offering online 1on1 Training via Zoom. If you are interested in partaking in our 1on1 zoom training let us know. We understand some people aren't ready to train in person yet. We can offer limited exercises equipment rental for Zoom 1on1 Clients and set up a consistent schedule to train you virtually. We will continue to maneuver through all of this and keep you up to date. Thank you for your support and remember to ALWAYS LIFT LOCAL.