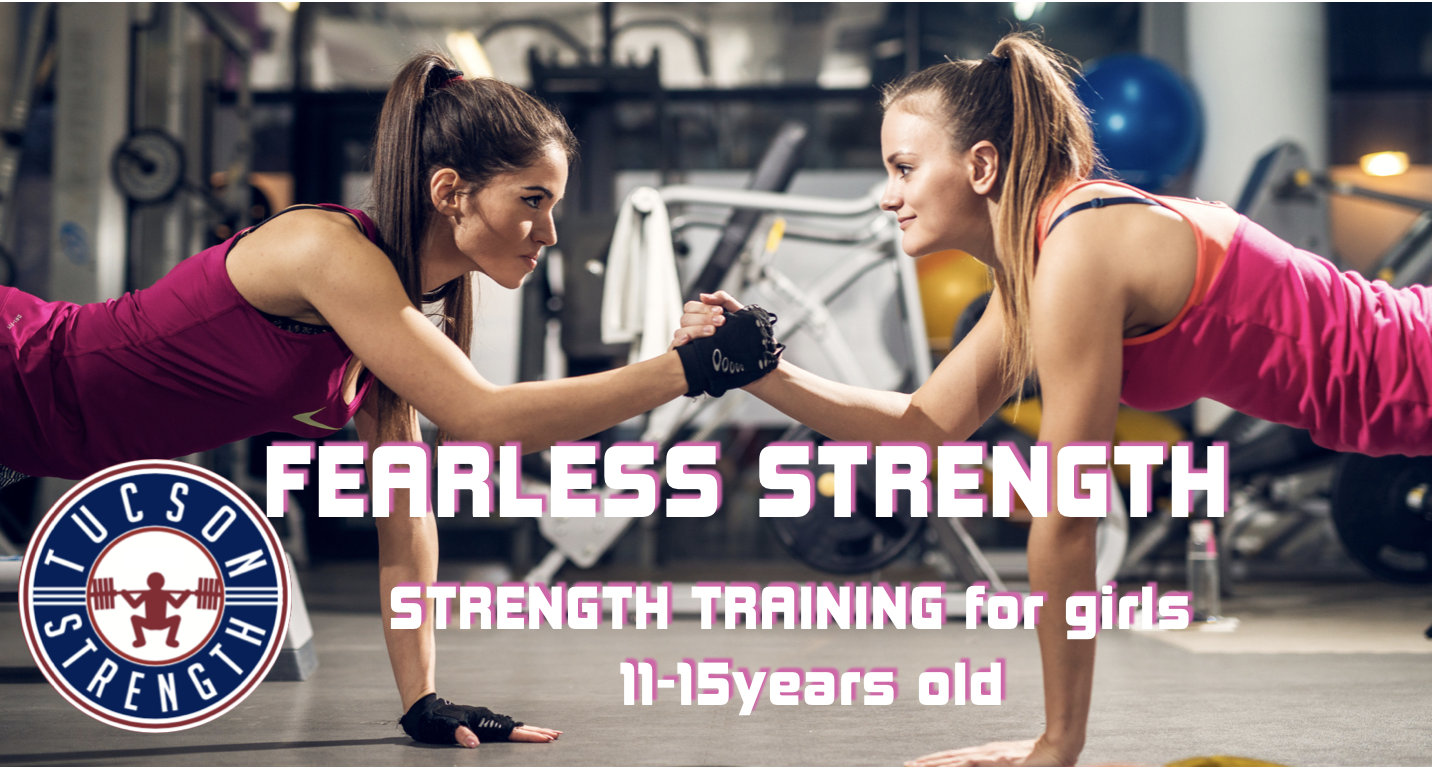 Social media can be a helpful tool in fitness, but unfortunately it has done more harm than good. There is so much false information about proper training and programming that it can cause many bumps throughout your own fitness journey. Girls are bombarded with the idea that what they see posted on Instagram and social media is exactly what they look like or how they should look. Tucson Strength is tired of seeing young girls with these unrealistic ideals and unhealthy behaviors that soon cause poor self-confidence, body image issues, insecurities, self-comparison, and a lack of knowledge in proper training. We want young girls to feel empowered, confident and live fearless.
WHAT IS THE FEARLESS STRENGTH PROGRAM?
We have created a program that will:
Teach young women how to train for strength.
Focus on teaching correct form and technique.
Build confidence inside and outside the gym.
Establish healthy nutrition habits.
We will NOT focus on taking measurements, weight loss, or dieting.
Our team of instructors are certified professionals, many with degrees in the field and have a passion of helping people become stronger. Coach Kirstin Fink will be leading this group of young women, and she walks the walk when it comes to health, fitness, and leadership. Here is a letter from Coach Kirstin about why this program is so important to her (click here).
PREREQUISITES
We are accepting girls aged 11 to 15 for this program. No lifting or training experience is required. We ask that you let the staff know ahead of time if there are any injuries or pre-existing health conditions we should be made aware of.
WHEN DOES THE PROGRAMS START?
We are excited to kickoff the Fearless Strength Program on Tuesday June 2nd, at 2pm.
Strength Training Classes will Meet Every Tuesday and Thursday from 2-3pm for 6 weeks! .
This 8 week program is only $129
This includes all of the strength classes for 2 months, nutritional guidance, access to additional classes on our schedule, and open gym for those that would like to come in and do some work on their own (if appropriate). For those that would like to continue on after the 8 weeks, we will be offering some great membership deals for ongoing training with us.