Fascial Stretch Therapist in Tucson
Meet Your Certified Fascial Stretch Therapist
If you are looking to improve your recovery, decrease soreness, and increase your flexibility, then Fascial Stretch Therapy can provide what you need.
Jessica VanAsselberg is our Certified FST Therapist here at Tucson Strength. She specializes in working with people using Fascial Stretching techniques to make them move, feel, and perform better.
Fascial Stretch Therapy is relaxing and gentle process. Often, people relate stretching with pain and discomfort, which is the exact opposite of what FST is all about.
Jessica will work with your body to release areas of tension without over stretching or pushing your body past any limits.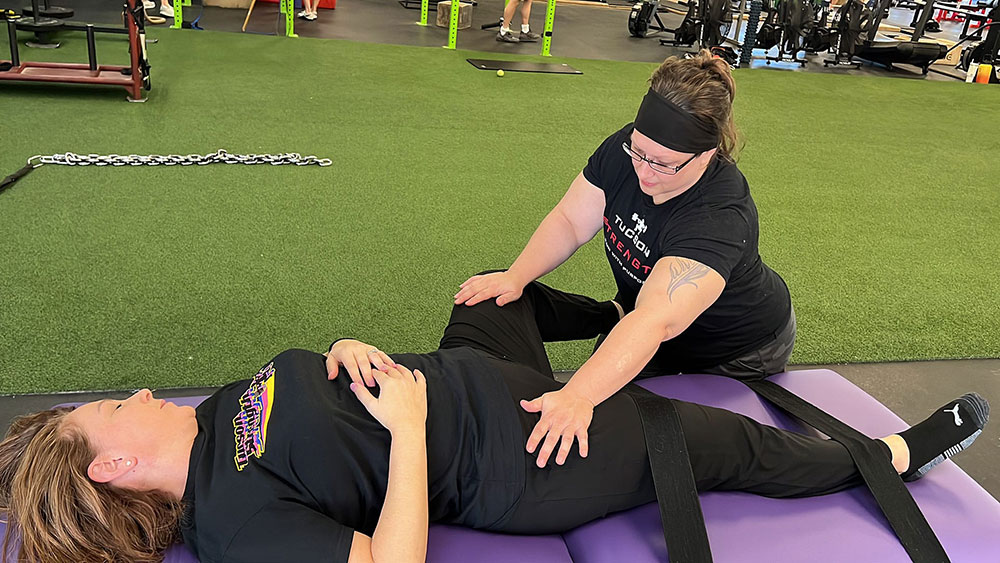 What is Fascial Stretch Therapy?
FSTTM, or Fascial Stretch Therapy, is a specialized method of assisted stretching that focuses on the fascia and joints. Through a series of targeted stretches, Jessica works with you to release tension deep within your tissues.
The goal is to ease restrictions within the fascia, alleviate the influence the nervous system exerts on the tissue, and enhance joint space by stretching the fascia throughout the body.
Ann Frederick originated this method in 1966, tailoring it to address the mobility needs of her professional athlete clients.
Viewing the body holistically, she concentrated on the continuous lines of fascia rather than isolated muscles. Utilizing a blend of traction, oscillation, and circumduction, she achieved notable results.
Later, her husband and physical therapist, Chris Frederick, joined her. They further refined and expanded the techniques, making them applicable to a broader audience looking to minimize pain and improve flexibility.
Try a Stretch Therapy session at Tucson Strength and experience the benefits for yourself!
Benefits of Fascial Stretch Therapy
Fascial stretch therapy offers a number of benefits, including the following:
Improved recovery time from hard training sessions
Increased blood flow to your tissues
Decreased muscle soreness
Improved flexibility
Increased injury resistance
Overall, Fascial Stretching can help with a number of common physical aches, pains, and recovery needs for both athletic performance and everyday life.
Fascial Stretch Therapy Pricing
Pricing for FST depends on how many sessions your purchase. Our pricing breakdown is below.
5 Sessions
60 Minutes Each
1 Session
90 Minutes Each
5 Sessions
90 Minutes Each