5/6/2020: Though we are not open for business, we are scheduling consultations for anyone looking to get started with us once we re-open! We can schedule private tours of the gym in person or do consultations via phone or Zoom Video. We are running some amazing membership specials. If you have been economically impacted by COVID19, chat with us and we will do what we can to get you started with us. Email us via our contact log. to schedule you complimentary consultation!
4/30/2020: We will have to remain closed till at lease May 15. We are still offering daily workouts on our Facebook Page and we have online interactive Zoom classes for any of our current members. We are also offering 1on1 Zoom personal training and online individualized programming.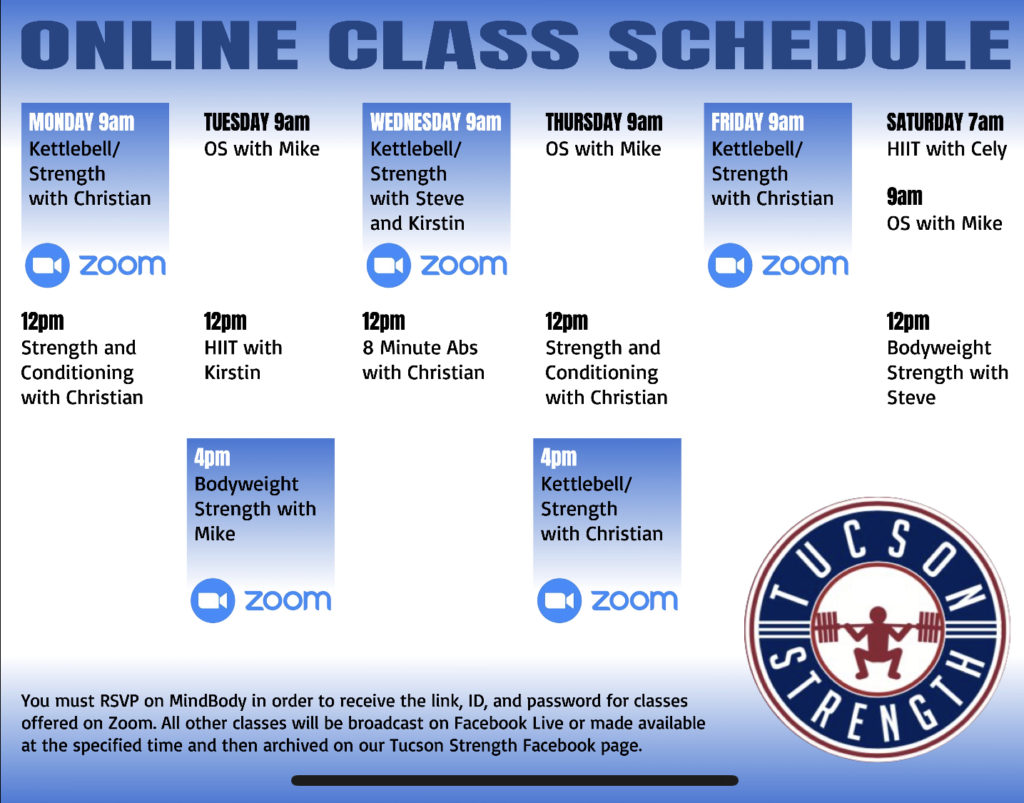 4/1/2020 – Online Classes Monday through Saturday on Facebook. 9am. Noon classes T/W/TH/Saturday. Free for everyone! They will also be saved on our Facebook page for later use. We are also putting some of the workouts on our Youtube page.
3/23/2020- Even though we are closed due to the COVID-19 Pandemic, we will be offering free streaming videos on our Facebook and Instagram pages during this time! If you are a member of Tucson Strength we are offering free workout resources for everyone. If you have some specialized equipment we will draw up some programs for you based on the equipment you have at home. This service is free for members that have kept their memberships active. We will be announcing some awesome membership and training specials before we re-open!
UPDATE 3/17/2020- 6pm
We are forced to close due to the Mandate by the City of Tucson.
UPDATE 3/17/2020
Tucson Strength is staying open for the immediate future, though things could change on short notice. There are a ton of opinions on whether businesses should close or not , and the decision is not easy. As of now my stand is, if you are immunocompromised or live with someone that is, it is your responsibility to do what is best for you and your loved ones.
I know many big box gyms have closed and people are expecting us to do the same. These gyms have 5,000-10,000 members, we have a fraction of that. Though we remain open, we are limiting our gym capacity during peak times. We may change hours and class schedules, but haven't made those decisions yet. We will NOT be actively recruiting new members or using it as a time to run specials to attract misplaced members from other gyms, I think that is a pretty slimy thing to try and do. We will take new member inquiries on a person by person basis as we want to keep the integrity of our community. If you have any questions feel free to call us at 520-445-6800 or email danny@tucsonstrength.com
Thank you for your Support,
Danny and Selma Sawaya and the Entire Tucson Strength Team
3/15/2020
Tucson Strength Community, It is has been one hell of a week! I know many of us have tons of different emotions circulating around all the current events. There are people afraid for their health or the health of a loved one. There are those upset about the fear that is circulating and think it is all irrational. There are those upset about not being able to find toilet paper, baby wipes, or rubbing alcohol. Many are afraid of the economic uncertainty we face.
Last time I felt this amount of uncertainty and pause was on September 11th, 2001. I know many of us don't know exactly how to respond or react, and I am going through the same process. I want to say that through these uncertain times, knowing that we have friends and support means everything.
When I opened Tucson Strength 10 years ago, it grew from 0 members to what we have today because of the family feel and community we created. As big as we have become, I still feel the same way about this place. I know for myself, my family, and the staff, seeing the gym occupied and having many of you continue to train and show up is awesome.
My goal during these times is to continue to keep the doors open as normal, and the gym clean as can be. We have a very rigorous cleaning policy in place. I was actually in today with my family deep cleaning. I know how much this place means to everyone and we don't want much to change. Please be patient with us as we maneuver through everything and see how the business will adjust. Over the next days/ weeks we will continue to monitor the situation and make the best decisions for our community's health, well being, and stability. We will listen to all state guidelines and follow from there.  We ask for your continued support. Myself, my family, and the staff are all committed to serving all of you as best as we can. Again, thank you all for being a part of this amazing community.
Much love to all of you- Danny and Selma Sawaya