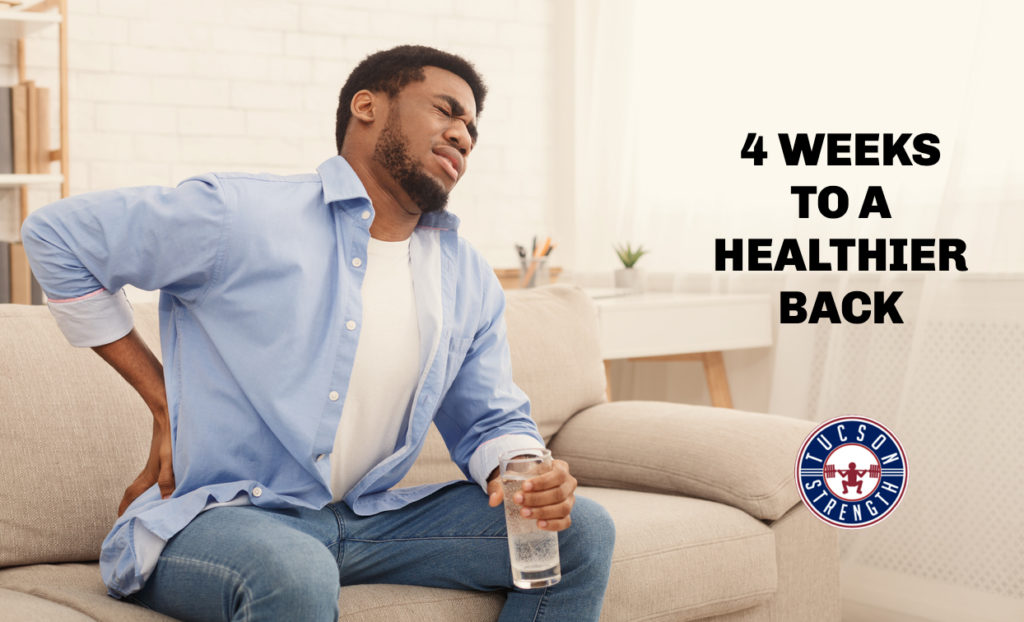 We see it on a daily basis at our gym. Many people come to us for consultations and tell us how they haven't worked out in years because of issues with their back.  The CDC reports that 50 million Americans suffer from chronic back problems. This means 20% of the US population has back pain most of the time. Many  chronic back problems are caused by lifestyle choices and daily habits that perpetuate the back pain cycle.
Chronic back problems can be caused by multiple factors: old injuries, repetitive use from laborious jobs, sitting too much, stress, and overuse. Unfortunately, the medical world isn't always the best at fixing back issues. Taking pills for back aches has been a huge factor in the opioid crisis, and pain pills just mask the pain. Surgery can only be used in extreme situations, and many people end up suffering with the same symptoms post surgery.
At Tucson Strength we are specialized in helping people work through their back issues so that they can return to working on health and improving fitness instead of managing discomfort. Please note if you are in Acute Trauma with your back and can't walk or have pain radiating to other parts of your body we suggest chatting with us first before signing up as we aren't medical practitioners.
Our program teaches people how to restore lost movement patterns and work within their limits to increase healthier and pain free movement. We work on improving breathing mechanics, mobility, and strength. Coach Mike Moran leads our 4 Weeks to a Healthier Back 2 group. Mike is an instructor for Original Strength, an amazing system of recovering foundational movement patterning while promoting core strength.
Here are a some testimonials from Mike's students who have seen great results from his programming.
I just finished this "4 weeks to a healthier back class"
For the last 15 years, I've dealt with a back injury consisting of a herniated disc between L5 S1 with sciatic nerve impingement (lumbar discectomy surgery in 2003), Schmorl's nodedeformities @ L2-3 through L4-5 interspaces, bulging disc @ L3-4-5, bilateral facet hypertrophy @ L2-3 and Epidural fibrosis @ L4-5.
Coach Mike was amazing! He was extremely encouraging and informative.
3 months ago, I was struggling to walk without a cane or without my wife supporting me. There were many days I was in tears from the ridiculous pain and was uncertain whether I would ever get better.
When this "4 weeks to a healthier back class" came across my facebook timeline, it was a Godsend.
After completing the class my pain level has decreased tremendously and my strength and flexibility have greatly improved.
I know it's going to be a long road to recovery, but I finally feel like I'm on the right track!
This class is awesome!
Since I started training with you, I walk around smiling and laughing to myself for the capacity I now have, in such a short time, to do things that I have for years, been unable to do. This morning, doing yoga at home, I was able to do a complete triangle pose with my arm overhead. I don't think that has ever happened. My shoulders are loose enough to do the pose. As you can tell, even getting up and down off the floor, while still a bit contorted, is better.

So, thank you! You are not only a gifted trainer and teacher, but a very kind and patient person as well.
I injured my lower back. Between having a job sitting at the computer and over doing it in Kettlebell classes, I thought I was going to have quit working out and head to physical therapy. When

Mike

heard I was injured, he invited me to meet with him one on one. During our first session,

Mike

listened to me explain the pain and expertly observed my mobility in the OS and kettlebell exercises. In that session and every session since,

Mike

has taught me how to best move in the exercises to build strength and increase mobility.  I experienced immediate relief from the back pain and remain pain free over 10 months later. "
THE PROGRAM
4 Weeks to a Healthier Back 2 is a program we designed for people to get back on track with their fitness. The program will meet 3 times per week for 45 minute group-training sessions.  As an added bonus we have added some exciting benefits to this program. It now includes a complimentary screen  with Physical Therapist Dr. Noah Abrahams and use of Tucson Sports Recovery! 
12 Small Group Training Sessions to help you move better and and build a healthy base of core strength and mobility.
1 complimentary Consult with Dr. Noah Abrahams
1 month complimentary Membership to Tucson Sports Recovery!
Tucson Sports Recovery has some world class tools to help you recover better, including Compression, Cry0-compression, and near infrared Saunas. You can also add additional service such as massage and laser therapy and at Tucson Strength Member prices!
This program is for new members only and is capped at 8 people.
WHEN
4 Weeks to a Healthier Back 2 meets Tuesday/Thursday 5:15pm, Saturday 10:15am starting on Tuesday April 7!
If these times don't work for you please contact us for some other options that we have.
COST
The Cost of this 4-week program is only $175! 
The normal price for all of these services would be $325.
Please note if you are in extreme pain you should get a medical release before jumping in to a training program.  If you are unsure if this program is for you please contact us and we can set up a complimentary consultation to make sure this program is the right fit for you.
Do you want some exercises and tips to start working on your movement and back immediately? If so, opt-in below and we will send you some videos to get started on taking control of your back NOW! We promise not to overwhelm you with emails. Please check your spam folder.