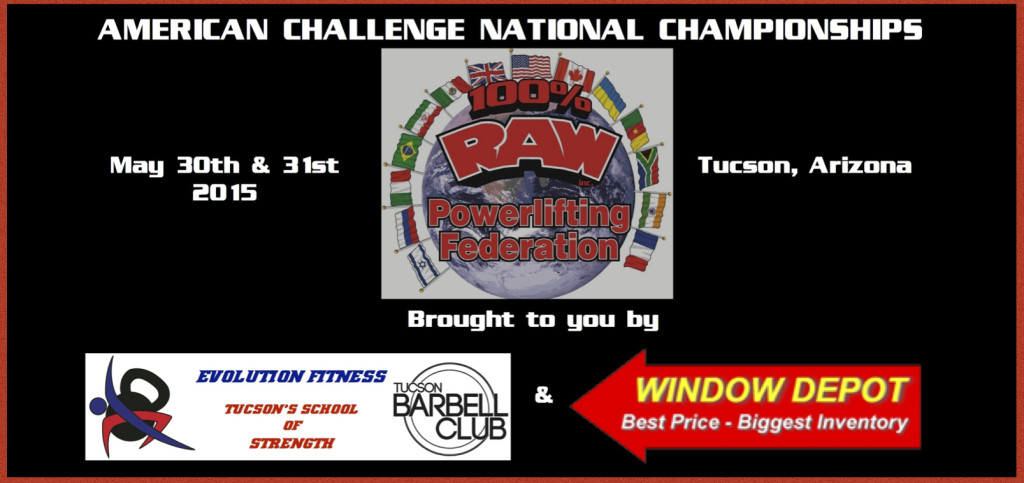 Evolution Fitness will be hosting one of the biggest powerliting meets in the state! The 100% Raw American Challenge National Championships will be held at Evolution Fitness on May 30-31st, 2015. We are expecting more than 130 lifters to attend the two day event, as well as 100's of spectators.  Last year we maxed our capacity of the gym and had over 500 Spectators on the 1st day alone!  This is a big event that will receive a lot of attention in the local, state, and national strength community. To help put on this event we are looking for some key sponsors. These sponsorship packages are  a great way to promote your business and support a great local event.  If you have any questions please let us know.
Executive Sponsor – $549 (ONLY 1 EXECUTIVE CO-SPONSOR)
FILLED: WINDOWS DEPOT IS THE 2015 EXECUTIVE SPONSOR
We will offer One Executive Sponsorship that will Co-Headline the Event with Evolution Fitness. Your company will receive top billing on most of our marketing materials such as website, Banners and posters.
There will be One Very Large Sponsorship Banner at the Meet that will feature our Executive and Platinum Sponsors.
The Executive Sponsor will be at the top of the MAIN EVENT BANNER which will read across the top: Brought to you by EVOLUTION FITNESS and (EXECUTIVE SPONSOR)
The website will also Feature the Executive Sponsor in a Prominent site on our webpage with a Link to your website.
Posters and Shirts will also feature the Executive Sponsor in a very prominent position with the words Brought to you by  Evolution Fitness and  (EXECUTIVE SPONSOR).
The Following will also come with the Executive Sponsorship:
Logo on the back of the Event Shirts
Set up a Table at the event to promote your business
4 Complimentary 2-day event passes 
4 T-shirts
PLATINUM  SPONSOR – $349 (Only 6 Will be offered, 1 Left)
Logo on the  MAIN American Challenge National Championship Banner
Logo on the back of the event T-shirt
A logo on the www.evolutiontucson.com American Challenge webpage with a link to your website
 A total of 3 two-day event passes
 A total of 3 T-shirts
 Your name and logo will be listed on many of the promotional items and posters that will be distributed for the event as well as linked on Facebook and social media sites.
 T-Shirt Sponsor – $199 
Logo on the back of the event T-shirt
A total of 3 two-day event passes
A total  of 2 T-shirts
A logo on the evolutiontucson.com American Challenge website with a link to your website
Name and logol(when possible) will be listed on promotional items and posters for the event